Preface
Denton Colliery (Ellis Pit) was situated on the north side of Stockport Rd (then Stockport Ln) about 230 yards to the east of the hamlet of Burton Nook (National Grid Ref: SJ 92603 94398) and ultimately it became the principal coal mine in the townships of Denton and Haughton. Besides this there were several associated coal mines in the vicinity of Burton Nook. The proprietors were William Hulton Senior followed by John Fletcher and Jacob Fletcher Fletcher of Peel Hall, Little Hulton, Lancashire, who were Lancashire landowners and coal proprietors.
Background of the Fletcher family
The earliest known proprietor of coal mines in the area of Denton and Haughton was the Hulton family but more about this family after an appraisal of the Fletcher family.
In c.1740 John Heathcote, a landowner in the Irwell Valley, Lancashire, attempted to sink the first deep coal mine in the area but it persistently flooded and Matthew Fletcher (c.1733-24 Aug 1808), a member of an influential local mining family, was brought in to advise on how to solve the flooding problem. It seems that he had little success and the mine closed. In 1750, Heathcote called in the renowned engineer and millwright, James Brindley (1716-72), to advise on how best to prevent flooding. Brindley devised a unique answer to the problem and the mine became known as Wet Earth Colliery.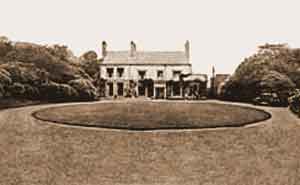 Clifton House.

Subsequently, Matthew Fletcher acquired Wet Earth Colliery and afterwards the Fletchers expanded their coal mining interests by adding the collieries of Botany Bay, Clifton Hall, Ringley, Robin Hood and Spindle Point to their portfolio. In 1763, Matthew built a new residence, known as Clifton House, which survived until 1965 when it was destroyed by fire. The land, mineral rights and coal mines owned by Matthew Fletcher became collectively known as the Clifton Estate.

In c.1801, Matthew Fletcher connected Wet Earth Colliery to the Manchester, Bolton and Bury Canal near Clifton Aqueduct. To do this he adapted Brindley's leat that supplied water from the river Irwell to the mine pumping chamber. This private branch became known as Fletcher's Canal and it was 1½-miles long with one lock falling 20 inches to the Manchester, Bolton and Bury Canal. It seems certain that Fletcher also started to build underground canals both at Wet Earth and Botany Bay after the example at Worsley (the Duke of Bridgewater's mines) but on a more modest scale. Matthew Fletcher became the Chairman of the Mersey and Irwell Navigation and a Committeeman of the Manchester, Bolton and Bury Canal Company.

Matthew Fletcher was the Principal Engineer for the construction of the Manchester, Bolton and Bury Canal and he purchased shares to the value of £1,500 in the company. The value of the share holding of Matthew Fletcher's brother, John Fletcher (the Elder), was £200. Another notable shareholder was Thomas Egerton, Viscount Grey de Wilton and Earl of Wilton, whose share holding was £2,000. It is known that the Egerton family owned all the land in Denton. Two thirds of the land was eventually leased to two parties, namely, Mary Woodiwis of Manchester and the Trustees of the late Ellis Fletcher Sr (1765-1834). Presumably the latter meant John Fletcher (1765/66-1846, of which more below) as a result of an indenture he made with the previous land proprietor in Denton, William Hulton Sr. The remaining one third of the land was leased to another 25 persons. In 1854, it is known that the Trustees of the late Ellis Fletcher Sr were also managing collieries in the area of Clifton and Kersley.

Matthew Fletcher and his brother, John Fletcher (the Elder), were the sons of Jacob Fletcher who had earlier developed shallow coal mines at Breightmet and Harwood in Lancashire, and it was John who sank the first mine at Atherton. It appears that Matthew Fletcher had no heirs of his own but he did have two nephews, Ellis Fletcher Sr (1765-1834) and John Fletcher (1765/66-1846) (whether Ellis and John Fletcher were brothers or cousins is unknown). Following the death of Matthew Fletcher, Ellis Fletcher Sr inherited the Clifton Estate and subsequently he moved to Clifton House, where he lived until his death, after a long illness, on the 26 Apr 1834. Subsequently, it was the short-lived Jacob Fletcher Fletcher, who eventually inherited the Clifton Estate, and in turn he left it to his only child, Charlotte Anne Fletcher, whose second marriage was to Major Alfred Wynne Corrie.

There is a great deal of conflicting evidence as to just exactly how Jacob Fletcher Fletcher came to inherit the Clifton Estate, a situation brought about by the absence of vital birth/Christening and death/burial records, and the repeated use of the same forenames in the Fletcher family.

Following the death of Ellis Fletcher Sr (1765-26 Apr 1834), it seems, inexplicably, that his younger son, Ellis Fletcher Jr (23 Jul 1833-23 Oct 1854), inherited the Clifton Estate but he was then a minor who did not attain his majority until the 23 Jul 1854, three months before his death. The Clifton Estate is known to have consisted of land spreading over Clifton, Kersley, Shakerley (Tyldesley-with-Shakerley, west of Worsley), Denton, parts of Bredbury and parts of Blackpool, with extensive coal mines thereon. Subsequently, the Trustees of the late Ellis Fletcher Sr (James Moore, Thomas Mulliner and Jacob Fletcher Ramsden, about whom nothing is known) managed the estate.

Ellis Fletcher Jr took no interest in the estate and he joined the army where he was commissioned as a Cornet in the 1st (King's) Dragoon Guards, this being an officer rank in cavalry regiments, the equivalent of Ensign in infantry regiments, the modern equivalent being Second Lieutenant.

On the evening of the 18 Oct 1854, while returning from hunting, he sustained an accident that resulted in his death on the 23 Oct 1854. Under the terms of his father's will, the Clifton Estate was then inherited by Jacob Fletcher Fletcher (1821/22-1 Apr 1857). At the time of his death in 1854 it became clear that Ellis Fletcher Jr and Jacob Fletcher Fletcher were brothers.

Ellis Fletcher Sr, 1765-26 Apr 1834, aged 69 years. Ellis Fletcher Jr, 23 Jul 1833-23 Oct 1854, aged 21 years 3 months. Jacob Fletcher Fletcher 1821/22-1 Apr 1857, aged 35 years.

By comparing and contrasting the dates and ages in the above table, especially the age and death of Ellis Fletcher Sr and the birth of Ellis Fletcher Jr, it will be seen that there seems to be some conflict and, additionally, by the custom of the time it seems odd that the younger brother should take precedence over the older one for inheritance purposes when the will was drawn up.

It is now known that the first member of the Fletcher family to become the proprietor of pits around Burton Nook was John Fletcher but the number and location of most of these is now lost. Nonetheless, it is likely that he became the proprietor of Hulme's Pit (probably the oldest) at the foot of Beat Bank by the river Tame, Bayley Pool Pit in Reddish Vale, Top Pit on the south side of Stockport Rd and a small cluster of pits a little further south of Top Pit, of which Great Wood Pit was the most prominant.

Jacob Fletcher Fletcher joined his uncle, John Fletcher, as a joint proprietor of the Denton pits when he reached his age of majority in 1842/43. The shaft of Denton Colliery (Ellis Pit) was sunk near Burton Nook in 1841, which means that this was undertaken when John Fletcher was the sole proprietor. It is more than likely that it was named after Ellis Fletcher Sr. The shaft was sunk on the north side of Stockport Rd near the older Top Pit. Top Pit was doubtless given this name because at the time its shaft was sunk it literally was the top pit. The other pits were located at the foot of Beat Bank alongside the river Tame, of which Hulme's Pit and Bayley Pool Pit were the most prominent.

At this time the Trustees of the late Ellis Fletcher Sr were still in existence but whether or not they took an active role in the day-to-day proprietorship of the pits is obscure.

John Fletcher, of Little Hulton, died in 1846, aged 80 years, and he was buried at Peel Chapel, Little Hulton, Lancashire, on the 31 May 1846. T Airey officiated, Burial Ref. 1836-1852, Page 128, Entry 1019. General Register Office Ref. Jun Quarter 1846, Bolton, 21 131.

A report in the Manchester Times on the 13 Oct 1855 quotes a statement made by Jacob Fletcher Fletcher when referring to an elderly Denton miner:

'···· that he had been told that he (the miner) had been employed on the (Denton) estate as a collier and underlooker for the last fifty years.'

This report is significant, as it confirms that the Fletcher family were proprietors of Denton pits in 1805.

Jacob Fletcher Fletcher was born in 1821/22 and on the 1 May 1844 he married Anne Fisher at the Parish Church of Preston, St John. At the time of his marriage he gave his address as Clifton in the Parish of Eccles. The couple's only child was their daughter, Charlotte Anne Fletcher, who was born at Bermondsey, London, in 1845. Jacob Fletcher Fletcher lived at Peel Hall, Little Hulton, Lancashire, and he died on the 1 Apr 1857 (gastritis 4 days) at the Lane Ends Hotel, Blackpool, aged 35 years. He was buried on the 6 Apr 1857 at St Paul's Church, Little Hulton, and his abode was recorded as Peel Hall, Little Hulton. Charlotte Anne inherited the Clifton Estate but as she was only 12-years old at the time of her father's death, it had to be managed by Trustees. Later, Charlotte Anne became the patron of the Church of St Anne, Manchester Rd, Clifton, which was founded in 1872.

On the afternoon of the 13 Oct 1853, Jacob Fletcher Fletcher and his daughter, Charlotte Anne, were at the site of the proposed St Lawrence's Infant and Junior School on Stockport Rd, Denton, in the presence of distinguished company and a large crowd. Here, Charlotte Anne, then aged 7 years, laid the foundation stone for the new school, her father having given the land upon which it was to be built. The Bishop of Oxford made a short speech and then he led the people in prayer. The Rt Hon William Ewart Gladstone MP, Chancellor of the Exchequer, then stepped onto the foundation stone and made a speech. Three cheers followed this for Queen Victoria, Mr Gladstone and the Bishop of Oxford after which the gathering dispersed. The new school replaced an earlier school, built in 1769, that was closer to St Lawrence's Church.

On the 2 Jun 1866, Charlotte Anne Fletcher married Sir Robert Wellington Stapleton-Cotton (18 Jun 1845-20 Feb 1898), 3rd Viscount Combermere of Bhurtpore, son of Colonel Sir Wellington Henry Stapleton-Cotton, 2nd Viscount Combermere of Bhurtpore and Susan Alice Sitwell. Her married name then became Stapleton-Cotton and they had one child, Madeline Isabel Stapleton-Cotton, born in 1877. In 1879 the couple divorced. Charlotte Anne Stapleton-Cotton née Fletcher filed the petition for divorce as the appellant and Robert Wellington Stapleton-Cotton was the respondent.

In 1886 Charlotte Ann married Major Alfred Wynne Corrie in the district of St George Hanover Square, London.

Historic names commemorated in Denton, Clifton, Little Hulton and Kersley (now Kearsley).

<!>

Denton Fletcher's Arms Public House Fletcher St (not extant) Kersley Villas Wynne Grove Wynne Close Corrie Close Corrie Primary & Nursery School Peel St Hulton St

<!>

Clifton Wynne Ave Corrie Rd Fletcher Ave Little Hulton Wynne St Corrie St Kersley Corrie Crescent Corrie Drive Doe Brow Clifton House Rd

<!>

<!>

By the time of her second marriage Charlotte Anne was a very wealthy lady and at this point she became associated with the Oswestry district of Shropshire. In 1893 Major Alfred Wynne Corrie Esq D.L., JP opened a new reservoir at Pen-y-gwely, about seven miles distant in Wales. In 1883 the chapel of St Anne was erected at Park Hall in the township of Weston, the cost of £2,000 being met by Charlotte Anne. However, she was still married to the Hon. Stapleton-Cotton at the time that she acquired Park Hall. She did a lot of charity work around Oswestry where she donated gifts to Morda Hospital, ensured that all newborn children in the area received a gift and that the poor and needy were provided with hot soup, which was delivered by her chauffeur in her Rolls Royce. She held an annual summer picnic for all the local children in the grounds of Park Hall and provided pheasants for the needy at Christmas time.

As she grew older she put on weight and she had a lift installed to hoist her up to her bedroom. One June morning in 1913 she got into the lift to descend when the rope broke, sending her crashing down the lift shaft. She remained conscious but two days later she died of her injuries and shock.
Names, as recorded
BMD
Reference
Comments
Jacob Fletcher FLETCHER*
M
Jun Quarter 1844,
Preston, 21 471, or 229/4/163
Charlotte Ann FLETCHER
B
Sep Quarter 1845,
Bermondsey, 4 1
Alfred Wynne CORRIE
B
Sep Quarter 1856,
Winchester, 2c 51
Jacob Fletcher FLETCHER
D
Jun Quarter 1857,
Fylde, 8e 359
Lane Ends Hotel, Blackpool
Charlotte Anne FLETCHER &
Robert W STAPLETON-COTTON
(first marriage)
M
Jun Quarter 1866,
Marylebone, 1a 966
2 Jun 1866, St Mary's Church,
Brynaston Square,
by The Lord Bishop of London
Madeline Isabel STAPLETON-COTTON
B
Mar Quarter 1877,
Kensington, 1a 44
Charlotte Anne COTTON (née FLETCHER)
& Alfred Wynne CORRIE (2nd marriage)
M
Dec Quarter 1886,
St George Hanover Square, 1a 749
Charlotte Anne CORRIE (née FLETCHER)
D
Jun Quarter 1913,
Oswestry, 6a 813, aged 67 years
Alfred Wynne CORRIE
D
Jun Quarter 1919,
Christchurch, 2b 737, aged 62 years
*Marriage on the 1 May 1844 at the Parish Church of St John, Preston, by the Revd J Owen Parr MA, Jacob Fletcher Fletcher Esq of Peel Hall in this county to Anne, youngest daughter of the late John Fisher Esq of Rivington.
Waggon and Horses/Fletchers Arms
The Waggon and Horses Inn was built almost opposite Burton Nook on the south side of Stockport Rd in 1796, at which time the landlord was Joseph Hopwood, a local tenant farmer. His son, Samuel, succeeded him and there is a reference to him being the landlord in 1836. In 1851, John Shelmerdine became the landlord and he was there until 1874. It is understood that it was at some point during his tenure that the name was changed from Waggon and Horses to Fletchers Arms. A likely presumption is that its name was changed sometime after the death of Jacob Fletcher Fletcher in 1857, whose family was the landowner, in order to commemorate the family name. In 1874 the landlord was John Lawton and by 1878 it was William Rothwell.
William Rothwell was a relative of Peter Rothwell who acquired the lease of Denton Colliery in 1867. However, William's father, Charles, died in 1879, aged 72 years, and his death was quickly followed by that of William in 1880, aged 41 years. Following William's demise, his widow, Elizabeth succeeded him as landlord. The 1881 census records that Elizabeth Rothwell (41) was the head of household as well as being a licensed victualler. She was living there with her three children, Maria (10), Nathan (7) and Ada (5) and her mother, Margaret (69).It is possible that Elizabeth Rothwell was the last landlord there who had a direct connection with Denton Colliery.
Robinsons Brewery, of Stockport, acquired the Fletchers Arms in 1921 and it is they who demolished the original building in order to replace it with a more modern and larger one.
The following notice about the Waggon and Horses, dated 13 Mar 1846, shows that the owner at that time was Jacob Fletcher Fletcher: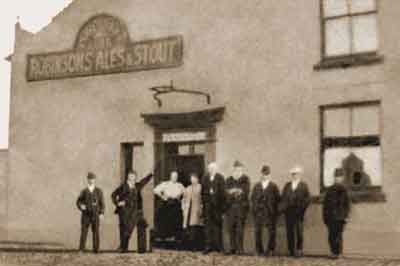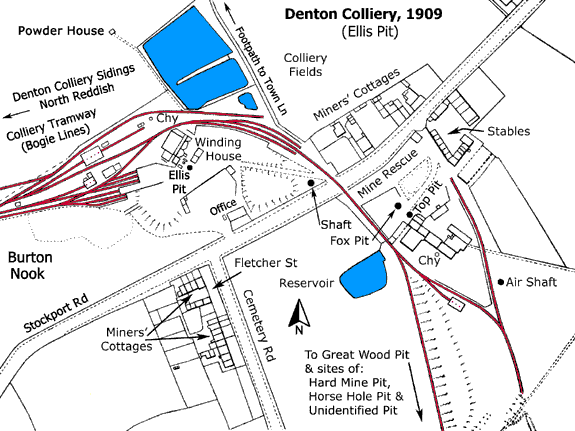 On the south side of the Stockport Rd the short Fletcher St was built and the later Cemetery Rd was built alongside it. A number of miners' cottages were built along Fletcher St as well as another four on Stockport Rd, just around the corner. The houses on Fletcher St were demolished long after the colliery closed and Fletcher St itself was cleared away at the same time to leave no trace of its former existence.
The mineral tramway, known locally as 'The Bogie Lines', connected Denton Colliery, Top Pit and Great Wood Pit to sidings and a coal wharf in North Reddish, where there was a connection to the London and North Western Railway (Stockport and Guide Bridge Line). Following the closure of the colliery, the tramway remained extant until shortly before the outbreak of World War II in 1939 when the rails were lifted for scrap. Any remaining wooden sleepers at the colliery end were lifted in 1945 to be used on the bonfire for the VE Day celebrations. This bonfire was held in the yard by the entrance to Colliery Fields.
In 1854 Ellis Pit is named Denton Colliery in Joseph Dickinson's list of mines and Jacob Fletcher Fletcher was the proprietor. Peter Higson is also mentioned in the same list. He held a senior management role for the Trustees of the late Ellis Fletcher Sr and he was born at Worsley in 1811/12. In 1841 he was living at Clifton and he gave his occupation as an Agent. By 1851 he was living at Spring Gardens, Clifton, and he gave his occupation as a Manager of Collieries, which can be taken to include all the collieries in the Clifton, Kersley and Denton areas that were managed by the Trustees of the late Ellis Fletcher Sr. This suggests that he was senior to Peter Rothwell who was only the agent for the Denton Collieries. However, by 1861 he had moved to Irwell Terrace, Kersal, Broughton, where he gave his occupation as a Government Inspector of Mines. By 1871 he was living on Manchester Rd, Worsley, where he was still a Government Inspector. He died in 1873, aged 62 years. It is now known that there was a serious dispute between Jacob Fletcher Fletcher and Peter Higson as a result of which Peter Higson was dismissed from his post.
At this juncture, the means by which the Fletcher family became coal proprietors and landowners in Denton will be examined.
Early Mining Activity and the Hulton Family of Hulton Park, Lancashire
According to Bowman, (Note 1Winifred Mary Bowman née Wilson, England in Ashton-under-Lyne, 1960, p. 466.) the earliest recorded evidence of coal being mined in Denton is in 1571 when an application was made by Robert Hyde and Robert Holland to Adam Hulton of Park Hall (later Hulton Park) for three acres of land on Denton Moor to be enclosed by a certain Raffe Collier. However, Bowman also states that mining in Denton commenced before 1556 but, as there were natural outcrops of coal in the sides of the Tame Valley, it is likely that these were being exploited a considerable time prior to 1556. This was confirmed in 1865 when Binney (Note 2E W Binney, Memoirs of the Manchester Literary and Philosophical Society, Vol. 2, 3rd Series, 1865.) wrote a paper in which he states that sections of the coalfield could be seen in the valley of the Tame from Reddish Mills (Reddish Vale) upstream to Dukinfield and beyond.
A 17th century reference to coal-mining activity in the Tame Valley is to be found in the Manchester Quarter Session Records. In 1622, Radus Hilton and Robert Wood were summoned for sheep stealing and both of them stated that they worked in the coal mines at Harden (Arden) (Note 3W Bowman, England in Ashton-under-Lyne, 1960, p. 466.).
Early references to coal mining in Denton and Haughton are recorded in the registers of baptisms for St Lawrence's Church, Denton.
10 Oct 1725: Joseph, son of Joseph STOPFORD of Haughton, Collier, was baptised. 6 Nov 1726: Jane, daughter of John SEDDON of Denton, Collier, was baptised.
In 1735, Robert Hyde applied to Mr Hulton for permission to construct a horse gin on his land. Hyde asked for no payment towards the cost of its construction and he promised not to use it on Sundays and Holy Days (Note 4Hulton Papers, Lancashire Record Office.). The horse gin was introduced to replace the use of the manually operated winch, aided by a counter-balance weight, to lower and raise a basket (or corve) in a vertical shaft (pit) sunk into the ground. The weight was raised as the basket was lowered and vice versa. The horse gin facilitated the lowering and raising to be done by a horse walking round a drum onto which a rope was alternately unwound and wound.
The means by which the Fletcher family became landowners and coal proprietors in Denton, possibly with the agreement of the Trustees of the late Ellis Fletcher Sr, is incomplete due to conflicting evidence and the possibility of errors being made when source documents, now lost, were transcribed. The principal landowner in Denton was the Egerton family (Earls of Wilton) and in the first instance, at an unknown date, they must have leased much of it to the Hulton family.
The Hulton family were powerful landowners whose family seat was at Hulton Park, a large estate situated at Over Hulton, south west of Bolton. In addition to land in Denton, the family also owned land in nearby Harpurhey. Income was mainly derived from substantial coal-mining interests, which included pits around Hulton Park and Westhoughton as well as those in Denton.
The outlet for coal mined in Denton, particularly from the pits around Burton Nook, was intended to be the Beat Bank Branch Canal of the Ashton Canal Company but in 1798 the Canal Company applied for a Bill to allow them to legally abandon this branch before its completion. Predictably, William Hulton Sr (1762-1800) opposed this Bill, so the Canal Company offered to give him the unfinished branch. He refused their offer and simultaneously tried to get the abandonment clause defeated in Parliament. He failed in this attempt and the Act (38 George III. Cap. 32) was passed on 26 May 1798.
William Hulton Sr
died in 1800, aged 38 years. His heir was William Hulton Jr
(23 Oct 1787-1864) and as he was only 12-years old when his father died he did not inherit the estate until 1808 when he reached his age of majority. During the interim, Trustees managed the estate. William Hulton Jr married his cousin, Maria Ford, on the 25 Oct 1808.
William Hulton Sr was the High Sheriff of Lancashire in 1788. The sheriff conventionally serves for a term of one year, with the term of office commencing in Mar. His son, William Hulton Jr was the High Sheriff of Lancashire in 1809 when he was a very young holder of this important post. He went on to be the instigator of the infamous Peterloo Massacre in Manchester on the 16 Aug 1819.
The means by which the land and coal-mining interests of the Hulton family were transferred to the Fletcher family can now be viewed in the context of the abandonment of the Beat Bank Branch Canal in 1798, William Hulton Sr's death in 1800 and the knowledge that his son and heir was only 12-years old when his father died, which meant Trustees were then managing the Hulton estate. In these difficult circumstances it is understandable that at this distance in time from the events that it is virtually impossible to piece together exactly what happened. Hulton Park was literally surrounded by rich coal pits that were controlled by the family. It is little wonder, therefore, that the failure of the Beat Bank Branch Canal in Denton probably caused William Hulton Sr to reflect upon the wisdom of maintaining an interest in coal mining in Denton when there was so much coal on his own doorstep.
Research has been made more difficult because an indenture leasing the Denton mineral rights to John Fletcher did survive but is now lost. The date of this was recorded as 1788 but it is likely that this was a transcription error and the date should be 1798, which coincides with the abandonment of the Beat Bank Branch Canal. In this indenture, William Hulton Sr of Hulton Park:
'···· both grant, demise, lease, set and to form let unto the same John Fletcher, his administrators and executors all and every mines, dels, beds and viens of coal now or hereafter to be found or discovered in any part of the lands or grounds of him, the said William Hulton (Sr), situated, lying or being in Denton ····.'
By this indenture, John Fletcher was allowed to:
'···· dig, delve, bare, search for, sink, sough, get, stock, lead, take, carry away, sell and dispose of the same.'
As we have seen, John Fletcher (1765/66-1846) was the nephew of Matthew Fletcher (c.1733-24 Aug 1808) who was an influential landowner and coal proprietor in the Clifton area of Lancashire. When Matthew Fletcher died it was another nephew, Ellis Fletcher Sr, (1765-1835) who inherited the Clifton Estate. Notwithstanding this, it is known that John Fletcher was the proprietor of the pits in Denton. Following the death of Ellis Fletcher Sr it is known from tithe maps that his Trustees were involved in neighbouring Bredbury and it follows that they were involved in Denton as well.
John Fletcher was an uncle of the brothers Jacob Fletcher Fletcher and Ellis Fletcher Jr. When Jacob Fletcher Fletcher reached his age of majority in 1842/43 he joined his uncle as a proprietor of the pits in Denton. The short-lived Ellis Fletcher Jr took no part in being a mine proprietor as he was a Cornet in the 1st (King's) Dragoon Guards. Following the death of John Fletcher in 1846, Jacob Fletcher Fletcher continued as the proprietor of the Denton pits. However, he was an absentee proprietor and his agent, Peter Rothwell, managed the pits on his behalf. It is known that Peter Rothwell was his agent by 1851. Following the premature death of Jacob Fletcher Fletcher in 1857, his only child, Charlotte Anne Fletcher, inherited the pits in Denton. As she was only 12-years old at the time the pits had to be managed by Trustees. Whether these Trustees were those of the late Ellis Fletcher Sr or new Trustees is unknown.
Eventually, the Denton pits were leased to Peter Rothwell. It is understood that this occurred in 1867 and if this is correct, then Trustees managed the pits over the period 1857 to 1867. It would seem no coincidence that by 1867 Charlotte Anne Fletcher had just reached her age of majority. In 1872 the Denton Colliery Co Ltd was incorporated (Company No. 6617) and Peter Rothwell was the principal shareholder and managing director.
Peter Rothwell
Peter Rothwell was born at Clifton, Lancashire, in 1821 to Thomas Rothwell and Sarah Eckersley and he was baptised at Ringley Old Chapel (predecessor of St Saviour's Church), Ringley, Kearsley, Lancashire, on the 15 Jul 1821. He married Elizabeth Wallwork at St Mary's Church 'the Hidden Gem', Mulberry St, Manchester on the 6 Nov 1842. His wife died at Denton in 1862, aged 39 years, and he married Sarah Ann Oldfield at Denton Chapel (St Lawrence's Church) on the 9 Jun 1863. She died at Denton in 1892, aged 62 years. Peter died at Denton on the 5 December 1899, aged 78 years.
Peter came to Denton in 1842 and he became one of the most prominent citizens of the town. Initially, he was resident at Mill Field House, Bredbury, adjoining Arden Mill. The Trustees of the late Ellis Fletcher Sr were the landowners. On the 22 May 1847 he moved to the house next door to the colliery office on Stockport Rd, Denton, before moving to 22 Fletcher St. For many years he was the church warden at St Lawrence's Church, a leader of the Sunday School and a founder member of Denton Conservative Club. Under the Local Government Act of 1857 he was the Chairman of Denton in 1866-69 and Chairman of the Denton Local Board in 1878.
In 1871 Peter Rothwell was employing 194 men and 82 boys. The Trade Directory of 1874 for Denton and Haughton lists Peter Rothwell of 22 Fletcher St, Denton, as the Managing Director.
By 1880 Denton Colliery Co Ltd controlled the following coal mines:
Denton Colliery (Ellis Pit)On the north side of Stockport Rd, sometimes referred to as Burton Nook Pit. This was the upcast shaft used for the extraction of stale air and as the coal elevator. In 1848 this shaft was sunk another 56 feet below Big Mine to the Roger Mine. A short distance to the east of Ellis Pit there was an unmamed shaft close to Stockport Rd, which may have been an air shaft. Top PitThis pit was located to the east of Denton Colliery on the south side of Stockport Rd and about 165 yards distant. This was the downcast shaft used by miners to access the colliery and for the supply of fresh air. Between Top Pit and Stockport Rd there was another shaft known as Fox Pit, which may also have been used as an air shaft. Great Wood PitThis was situated in fields off the south side of Stockport Rd about 525 yards distant from Denton Colliery (upcast shaft). Eventually it was converted into a pumping station. This pit outlasted the nearby Hard Mine and Horse Hole Pits. In 1846 shaft sinking for Horse Hole Pit began and in 1848 further shaft sinking also broke into the Hard Mine (seam). Hulme's PitSometimes known as Holmes Pit, this was a much older pit at the foot of Beat Bank by the river Tame. This was converted for use as a pumping station for drainage purposes but mining work still continued. Victoria Colliery, Haughton GreenThis was initially owned by Thomas Shaw & Sons but its location is uncertain. In 1873 it was purchased by the Denton Colliery Co Ltd. Additionally there wereAlbert Pit off Tib St behind the Masons Arms Public House at Three Lane Ends, Parsonage Pit between Tib St and Vaudrey Ln and Bayley Pool Pit in Reddish Vale.
Peter Rothwell and the Ansley Hall Coal & Iron Co Ltd, Warwickshire
This company was established in 1873 by a group of Lancashire businessmen including Peter Rothwell of Denton Colliery and James Barlow of Barlow & Jones Ltd, cotton spinners. The latter company was incorporated in 1874 and it included Albert Mill, Cobden Mill and Prospect Mill, all in Bolton, and a warehouse at 2 Portland St, Manchester. The shafts of Ansley Hall Colliery were sunk in 1873/4 and it was connected with the railway network in Sep 1876.
By 1879 Ansley Hall Colliery seemed to be having financial problems and William Garside Phillips of Hyde and Denton was appointed as the colliery manager to address these problems. By this time he had become the bookkeeper at Hyde Ln Colliery, having previously worked at Denton Colliery for a while. He moved to Ansley in 1879 where he rose to become a major shareholder and managing director of the Ansley Hall Coal & Iron Co Ltd, which included Ansley Hall Colliery, Ansley Hall itself, and a nearby brickworks. The hall was used as the colliery offices and as a miners' social club.
Directors of Denton Colliery Company
By 1913 the names of two directors are known and these were James C Fell and John (?) H Jenkins. By this time John Doodson had been replaced by Thomas Doodson as the Company Secretary.
The role of a company secretary is wide ranging and company directors should have access to the advice of a company secretary who is responsible for advising the board on all governance matters. Their many duties include keeping a register of all shareholders past and present and in advising directors on their duties and ensuring that they comply with corporate legislation and the articles of association of the company.
In 1896 there were 268 underground workers and 49 surface workers. The coal gained was categorised as being for household and manufacturing purposes. The main coal seams (called mines) being worked were Big Mine and Roger Mine. Big Mine was also called the Great Mine. At this time, the Manager of Denton Colliery was Samson Garside and the Under Manager was Philip Lloyd (Note 5At the time of the 1901 census, Philip Lloyd was living at 53 Two Trees Ln, Denton, and his occupation was given as Coal Miner. He was born at Poynton, Cheshire in 1849/50.).
On the 20 Jan 1905, William Ollerenshaw (Note 6At the time of the 1901 census William Ollerenshaw was living at 20-22 Fletcher St, Denton, and his occupation was given as Colliery Manager. He was born at Glossop, Derbyshire, in 1862/63. It seems that he did not live anywhere for very long and addresses are recorded for Ashton-under-Lyne, Bredbury, Denton, Woodley, Blackpool, Poulton-le-Fylde and New Zealand. He left Stockport Rd, Denton, on the 18 Dec 1900, to move to 20-22 Fletcher St. He left Fletcher St in Aug 1915, following his dismissal, and from there he moved to Fern Hill, Woodley.), Manager of the Great and Roger Mines at Denton Colliery, recorded in an Annual Return that:
Underground there were:
12 male young persons of 13 and under 15 years
218 males above 16 years
Above ground there were:
99 males above 16 years
Making a total of 329 mine workers
105,928 tons of coal were drawn on 232 days
Thus, on average, 456.59 tons of coal were drawn per day and each miner produced 322 tons over the period of 232 days or 1.39 tons per miner per day. This return shows that only two seams were being worked, namely the Great and Roger Mines, which suggests that the other seams, which were thinner, were not considered to be commercially viable.
The table below provides some details of Denton Colliery between 1908 and 1923.
Year
Manager
Under-Manager
Men
Below
Ground
Men
Above
Ground
1908
William Ollerenshaw
Philip Lloyd
315
108
1918
William McKay
Philip Lloyd
210
86
1923
Joseph Graham
John Catterall
244
85
In 1911, John Doodson of Balfour Rd, Southport, was the Company Secretary of Denton Colliery and Thomas Doodson of Kersley Villas, Stockport Rd, Denton, was the Assistant Company Secretary.

The Coal Mines Act of 1911 made it mandatory for central rescue stations to be built and by 1914 it became compulsory to have such a station within 10 miles of each coal mine (later this was increased to 15 miles). One of these manned stations was built on Stockport Rd on the opposite side of the road to Denton Colliery. This was provided with a mortuary at the back but there is no evidence that this was ever used. Additionally, collieries were expected to keep and maintain their own sets of rescue equipment.

On the 1 Apr 1921, the coal owners locked out the miners nationwide and three months later they returned to work with wage cuts.

On the 3 May 1926 the General Council of the Trade Union Congress (TUC) called some 1½ million workers out on strike (the General Strike) in support of coal miners who had been locked out by the coal owners on the 1 May 1926 when they rejected wage cuts recommended by the Samuel Commission. The TUC called the strike off on the 12 May 1926 but angry miners stayed locked out for a further six months until they were forced back with wage reductions and longer hours.

During the period of the miners' strike it was impossible to maintain the underground workings and many mines were damaged by flooding, never to reopen. Denton Colliery was one such mine and it went into voluntary liquidation in 1929/30. It is recorded that coal production ceased at Denton Colliery on the 9 Nov 1929 (Hulme's Pit and Great Wood Pit were both being used for mine drainage purposes) but safety work continued for a short while afterwards. Company liquidation commenced on the 2 Dec 1929 and it was finally dissolved between 1933 and 1948. National Archive Ref. BT 31/30814/6617, where 'BT' refers to records of the Board of Trade and of its successor.

It is understood that the managing director at the time of closure was David Davies. The headgear of Denton Colliery (formerly Ellis Pit) was demolished in 1932.

At the time of liquidation in 1929, the company owned 70 properties in the vicinity and these were mainly miners' cottages. There were 31 on Stockport Rd of which 8 were odd numbered and 23 were even numbered; 5 on Tib St; 16 on Smith St; 6 on Cemetery Rd (formerly Fletcher St), originally 7 but Nos. 20 and 22 were converted into one property; 3 at Beat Bank; 3 at Leather's Fold (part of Beat Bank); 2 at Hulme's (part of Hulme's Ln); 4 on Hulme's Ln.

The cottages on Smith St were known as 'Back Company Row' and 'Big Back' separated these from 'Front Company Row' on Stockport Rd. The latter had extensions at the back and they were for more senior staff.

Nos. 20-22 Cemetery Rd (Fletcher St) was used as the residence of the Colliery Manager.

The company also owned Albert Bakery off Tib St and this building was once associated with Albert Pit behind the Masons Arms. It is understood that Albert Pit closed in 1886 and by 1930 Albert Bakery was occupied by E Braithwaite & Son, bakers and confectioners. The proprietors were Ellis Braithwaite (father) and Cyril Braithwaite (son) who were resident on Acre St.

Speaking in 1974, Mr Wagstaffe, a former miner who still lived in one of the miners' cottages on Stockport Rd, stated that prior to the General Strike in 1926, the Colliery Company wanted to sink a new shaft closer to the actual coal faces because miners had a considerable distance to travel underground before reaching them. Apparently an application had been made to the government for funding but the strike interfered with these plans and they were never implemented. Mr Wagstaffe also bitterly remembered that the company still owed him one week's wages from the time that he was sacked.

A few of the structures surrounding Denton Colliery survived until after World War II and others are still extant. One of the buildings associated with the tramway sidings was used as an engineering workshop. The shaft, waggon loading area, reservoirs and the isolated powder house all remained, the area being used by children as a playground but no one was injured or killed. On the north side of the level crossing over Stockport Rd there was a small cluster of miners' cottages but by the time of World War II these were in a ruinous condition. Opposite these cottages there was an arrangement of buildings, roughly in the form of a square, with a setted courtyard inside. This was a stable block and throughout the war the farmer at Yew Tree Farm, Benjamin 'Ben' Phillips, used it for general farming purposes. Lower down the road, a short distance back, a tall chimney associated with a boiler house also survived. The mine rescue station was built close to the stable block and this survives to the present day as private dwellings. On the same side, just beyond the entrance to Cemetery Rd, one miner's cottage survives, much altered.

On the Denton Colliery side of Stockport Rd, the colliery office was taken over by Albert Jones, a monumental stone mason, one part being used as a showroom and the other part and the first floor being used as his residence. The working area was in the yard at the rear. Today it is still used as a showroom by Albert Jones Memorials. During World War II this yard was used on one occasion to give a public demonstration of how to extinguish incendiary bombs dropped by enemy aircraft.

Following the closure of Denton Colliery, a timber palisade was erected around the shaft to prevent anyone from falling down. This started to rot, creating holes in the sides, and people then began using it for rubbish disposal. Children also dropped stones down and counted how many seconds it took before they hit the bottom with hollow thuds. It was not until 1974 that the National Coal Board finally sealed it. This operation took several months, during which time fly ash was continuously pumped down it. The ash was recovered from the chimneys of power stations by electrostatic means and being very fine it had similar properties to fluids. At the bottom of the shaft it first flowed along the surviving galleries until they were all sealed. When this was completed, the shaft itself began to fill with ash and when full it was capped with a reinforced concrete raft. Prior to the pumping work starting, some excavation work of the surrounding spoil heap was necessary and this unearthed some Lepidodendron and Calamite fossils from the Carboniferous Period, about 358.9 to about 298.9 million years ago.

For more details about Denton Colliery use the following menu:

<!>

<!>

Extract
On the 29 Apr 1901, Samuel Howard and James Worth, employees of the Denton Colliery Co Ltd, were brought before the Justices at Ashton-under-Lyne for causing an obstruction. They were charged with leaving their horses and carts outside the Blue Pig Inn at Audenshaw for an undue length of time. Both defendants pleaded guilty to the charge and they were fined 1s 0d plus costs.

North Cheshire Herald, 23 Jul 1926
In support of Denton Carnival Week the Denton Colliery Co Ltd provided a coal cart hauled by the mare, 'Bonny', which was dressed by J Dilks and led by J Wagstaffe. The coal in the cart was from the Roger Mine and this was got and raised exclusively by safety men.
Note: 1926 was the year of the General Strike and, although this nine-day strike ended on the 13 May 1926, coal miners remained on strike for several months longer and this is the reason why the coal was got by the safety men at the colliery.

Lancashire Mining Museum at Astley Green
The last surviving headgear and winding house in the whole of the Lancashire Coalfield.
References

Great Mine, Denton Colliery. Egerton Family, Earls of Wilton of Heaton Hall. Plans: Coal Mines, Lancashire. Ref. E4/85/50 dated 1929. Deposited at Greater Manchester County Record Office (with Manchester Archives).
Big Mine, Denton Colliery. Egerton Family, Earls of Wilton of Heaton Hall. Plans: Coal Mines, Lancashire. Ref. E4/85/51 dated 1930. Deposited with Greater Manchester County Record Office (with Manchester Archives).


Note:

Great Mine and Big Mine are synonymous.
Denton Colliery Co Ltd, correspondence relating to liquidation. Ref. DD83 dated 1929-1930. Deposited at Tameside Local Studies and Archives, who also have the plan of the Roger Mine.
<!>
The headgear of Denton Colliery (upcast shaft)), early 20th century.

In front of the headgear, a row of tippling devices empty the contents of coal tubs into carts, which would then be taken away for local distribution. The horse and cart on the right seems to be standing on a weighbridge.

Denton Colliery (upcast shaft) viewed from Stockport Rd, early 20th century.

Denton Colliery mine rescue teams at the Mines Rescue Station on Stockport Rd, 1920s.

Denton Colliery mine rescue team, 1920s.

Proto Mine Rescue Breathing Apparatus

The breathing apparatus the men are wearing was developed during the Great War and it was manufactured Siebe Gorman & Co Ltd of London. Known by the tradename Proto, it was comprised of a chest-mounted canvas-covered 'breathing bag', oxygen cylinders, supply tubes, a nose clip, a mouth-piece, and a skull cap.

A problem faced by sappers digging tunnels on the Western Front was that of carbon monoxide gas which was released into the earthworks following the detonation of explosive charges. Sappers were often caught unawares because this gas is both odourless and tasteless and additionally rescuers often became casualties themselves as they tried to save their comrades. To combat this hazard the most modern breathing equipment available was obtained and this was the Proto.

A group of miners, c.1911.

Left: John Samuel Rhodes Finney (1890-1952).

John was born at Denton and he spent part of his working life in the Winding House at Denton Colliery. However, due to ill health, he left this job to become the caretaker at the People's Hall Cinema on Prestwich St, Denton.

Right: Harold Bowker (1898-1973).

Harold Bowker was born at Denton and he was a maintenance engineer at Denton Colliery.

The Peckett 0-4-0 saddle tank locomotive 'Denton' at Denton Colliery, early 20th century.

The sister locomotive to 'Denton' was called 'Nancy'.

The 1891, 1901 and 1911 censuses shows that Thomas 'Tommy' Wagstaff was employed at the colliery as a locomotive driver.

A former workshop or locomotive shed, 1930s.

The mine headgear formerly stood on the high ground behind the shed. Following closure of the mine, this shed became an engineering workshop.

Denton Colliery Tramway (Bogie Lines), early 20th century.

This view is looking east from Hyde Hall Bridge. The headgear of the colliery is just visible in the centre background.

Hyde Hall is off the picture to the left. When the tramway was constructed, the line severed an orchard behind the hall and the wooden footbridge was provided to reconnect the two parts of the orchard. Horse Close Wood is off the picture to the right.

The former office of the Denton Colliery Co Ltd, 15 Aug 2008.
This short section of retaining wall is all that remains of Denton Colliery (Ellis Pit), 16 Apr 2009.

The former miners' cottages on Stockport Rd, c.1960.

The entrance to Fletcher St is between the two stone posts. Cemetery Rd is on the extreme left.

Credit: A Arrowsmith.

Colliery Fields Footpath, 24 Aug 2008.

This old footpath connects Town Ln to Stockport Rd and this view is from the Town Ln end looking towards Stockport Rd.

Coal miners living in the Town Ln, Market St and Acre St areas of Denton used this footpath to get to and from Denton Colliery. Up until the 1990s, the path was much wider than this with an open aspect over fields on the right and allotments on the left. Adjacent to the colliery the footpath was once partly fenced using pit props and wire rope from the cage winding drum in the colliery winding house.