Sir Joseph Whitworth
(1803 - 1887), English Engineer,
born in Stockport, Cheshire
Sir Joseph Whitworth is best known in connection with his development of a rationalised system of screw threads and for the screw threads that bear his name; British Standard Whitworth (BSW). He proposed this thread system in 1841 and the relevant British Standard is BS 84: 1956. However, the principal contribution of this exceptionally talented engineer was his introduction of new standards of accuracy in manufacturing to a degree previously unknown.

By 1830 a skilled mechanic could be expected to work to an accuracy of only one sixteenth of an inch but by 1840, thanks to Joseph Whitworth, an accuracy of one ten-thousandth of an inch was a practical proposition. Subsequently, Whitworth devised an instrument (a bench micrometer) that could measure to one millionth of an inch. He also introduced a standard for the flatness of plane surfaces, which was essential for fine engineering work and for the manufacture of surface plates used for marking out purposes.

Joseph Whitworth was born in Stockport, Cheshire, on the 21 December 1803 and he was the son of Charles Whitworth, a schoolmaster (another source says that he was a Congregational minister), and Sarah. He was Christened on the 8 February 1804 at Churchgate Independent on Orchard Street, Stockport. It is possible that the maiden name of Charles Whitworth's wife was Sarah Pullan, the couple marrying at Pateley Bridge, Yorkshire, on the 2 August 1795.

Joseph Whitworth married twice. His first wife was Frances Anker and they were married on the 25 February 1825 at Ilkeston, Derbyshire. His second wife, 25 years his younger, was Mary Louisa Orrell and they were married in 1871 at Westminster, London.

<!>

Sir Joseph Whitworth.

Joseph Whitworth only received an elementary education and during this period of his life he did not distinguish himself. On leaving school he became an indentured apprentice to an uncle who was a cotton spinner in Derbyshire. This was only a four-year apprenticeship and on completion of this he worked for another four years as a mechanic in a factory in Manchester. He then found employment working for Henry Maudsley (1771-1831), inventor of the screw-cutting lathe. Maudsley's factory was on Westminster Bridge Road in London and here he worked alongside other men who were also destined to become famous engineers, such as James Nasmyth (1808-1890), inventor of the steam hammer, and Richard Roberts (1789-1864), inventor of a self-acting spinning mule.

Under Maudsley's tuition, Whitworth developed immense skill as a mechanic. Here he developed a method of creating truly flat surfaces and he developed machine tools for turning, shaping, milling, slotting, gear cutting and drilling, all to a high degree of accuracy. He also introduced a box-casting system for the iron frames of machine tools that increased their rigidity, while reducing their weight.

A noteworthy invention that bears his name is the Whitworth Quick Return Mechanism that is used to drive the cutting tool on shaping machines. The return stroke of the reciprocating tool is idle time and Whitworth's invention speeded up the return of the tool to the beginning of the cutting stroke and so saved time.

<!>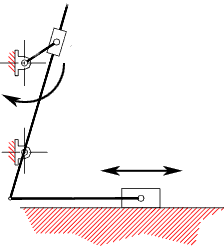 Whitworth Quick Return Mechanism.

In 1841 he recommended the introduction of a standard system of screw threads with a fixed thread angle of 55° and having a standard pitch for a given diameter. His work was exhibited at the Great Exhibition of 1851 and his machine tools, measuring techniques and screw-thread system earned him critical acclaim both at home and abroad. In particular, his bench micrometer, which could measure to an accuracy of one millionth of an inch, earned him international fame.

During the 1850s, Whitworth turned to the manufacture of guns and he developed a rifled gun barrel with a hexagonal cross section. However, while this gun was very accurate, it suffered from fouling after repeated firing. His work in this field brought him into bitter conflict with his rival, the renowned engineer, Sir William Armstrong (1810-1900), over government contracts for armaments. The animosity between the two men was never resolved during Whitworth's lifetime and it was not until 1893 that the two firms merged to form the massive Armstrong Whitworth Company. This company had factories at Elswick on the north bank of the river Tyne, near Newcastle, and at Openshaw, Manchester.

Whitworth took a keen interest in engineering education and to encourage engineering talent he founded 30 scholarships, costing £100,000, at what is now the University of Manchester, as well as at Manchester Technical School (Mechanics Institute) and Stockport Technical School. Manchester Technical School became the Manchester College of Science and Technology and then the University of Manchester Institute of Science and Technology (UMIST), which has now merged with the University of Manchester. Stockport Technical School became Stockport College.

In March 1868 he wrote to the Prime Minister, Benjamin Disraeli, about scholarships, saying that they were intended to, '---- encourage students to combine practice with theory, and artisans to combine theory with perfection in workmanship.' In those days, Whitworth insisted that boys should learn the correct use of tools from the very beginning of their schooling.

Furthermore, Joseph Whitworth took an interest in art and culture and he was a member of the General Council for the Exhibition of Art Treasures of the United Kingdom, held in Manchester over the summer of 1857. The temporary iron and glass pavilion that housed the exhibition was built in Manchester Botanical Gardens at Old Trafford, where the White City retail park now stands.

<!>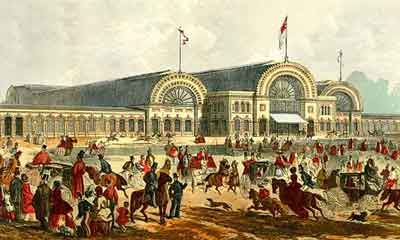 The pavilion at Old Trafford, Manchester, that housed the
Exhibition of Art Treasures of the United Kingdom in 1857.
On completion of his working life as an engineer, Whitworth retired to Monte Carlo where he died on the 22 January 1887, aged 84 years. During his career he oversaw the development of modern manufacturing techniques from their simple beginnings still prevalent in the first quarter of the 19th century. Over this period he rose from being an apprentice mechanic to become a Fellow of the Royal Society (FRS), a Baronet and the recipient of honorary degrees from the University of Oxford and Trinity College, Dublin.
The contribution that the Armstrong Whitworth Company went on to make during the Great War (1914-18) was colossal. It is credited with the supply of 13,000 artillery pieces, 100 tanks, 47 warships, 240 converted merchant ships, 1,000 planes and three airships as well as 14,500,000 shells, 18,500,000 fuses and 21,000,000 cartridges.
Whitworth Street in Central Manchester, Whitworth Street in Openshaw, the Whitworth Art Gallery and the adjoining Whitworth Park all commemorate Joseph Whitworth. There was also a Whitworth Hall on Ashton Old Road, Openshaw, which was subsequently used by the Openshaw College of Technology. Joseph Whitworth purchased an estate at Darley Dale, Derbyshire, and he is commemorated in Ambergate by the Whitworth Institute and the Whitworth Hospital. Finally, a blue plaque in Stockport commemorates him.
Following his death, his body was returned to England and he was buried in the churchyard of St Helen's Church in Darley Dale, Derbyshire, and his second wife lies beside him.
The massive factory of the Armstrong Whitworth Company in Openshaw was on the south side of Ashton Old Road, bounded by Whitworth Street, Bessemer Street and the Otto Gas Engine Works (Crossley Brothers, manufacturers of gas engines, diesel engines and motor cars, et cetera).