Victoria & Albert Mills
Victoria Road, Dukinfield, Cheshire
These spinning mills carried out many processes, which transformed bales of raw cotton into yarn ready for weaving. The term 'spinning' could refer to the whole activity or just to the final process of making yarn. The next step in manufacture was 'doubling', which was the process of twisting together two spun yarns, and it is likely that this process was also undertaken at these mills.
Early cotton mills were vulnerable to fire because of either the creation of an explosive atmosphere caused by cotton fibres floating in the air or by the spontaneous combustion of bales of raw cotton. Such fires were frequent and often disastrous and this created a strong incentive to find a solution to the problem. The first attempt was the brick-built mill with internal cast-iron columns supporting the floors. The floors consisted of an array of shallow brick arches (called jack arches) springing from timber beams supported by cast-iron columns. Exposed surfaces of the beams were coated with plaster to give them a degree of protection from fire. The jack arches were covered with sand or ash and the flooring was laid on top of this. The flooring consisted of heavy timber (less able to catch fire), stone flags or tiles.
The next stage was to replace the timber beams with beams made of cast iron. These iron-framed mills were generally referred to as being of 'fireproof construction'. Development work continued on the design of these mills until a stage was reached where the thick load-bearing exterior walls were replaced by curtain wall cladding.
Sir William Fairbairn began work in Manchester on the design of cast-iron beams and he made and tested them at his works in Ancoats. The Manchester Literary and Philosophical Society published the results of his research in 1830 and this became the basis for structural cast-iron design during the 19th century. Water Street Bridge in Manchester, built in 1829/30 by George Stephenson for the Liverpool and Manchester Railway Company, is the first known practical application of this type of structure. Fairbairn's research permitted the first bridge of girder (or level beam) construction to be built.
Victoria and Albert Mills were built in 1873 and these were typical fireproof mills of brick construction having cast-iron columns on which jack arches were laid. The exterior walls became thinner from floor to floor.
Both mills were owned by the Newton Moor Cotton Spinning Co Ltd and the architect was George Woodhouse (1829-1883) of Bolton. Kelly's Trade Directories of Cheshire for 1896 and 1902 show that William Cooke Dent Sporle (1852-1909) was then the Company Secretary and by 1914 the Secretary was Henry Clough. On the 29 Nov 1920, at a company meeting held at the mills, a resolution was passed to voluntarily wind up the company. They were then acquired by Astley Mills Co Ltd whose Astley Mill was nearby on Dewsnap Lane. To achieve this the Newton Moor Cotton Spinning Co Ltd and Astley Mill Co Ltd were both liquidated and a new company called Astley Mills Co Ltd was incorporated. The new company name included the word 'Mills', the three mills being Astley, Victoria and Albert. This venture was unsuccessful an in 1931 Astley Mills Co Ltd was liquidated and Astley Mill was demolished in 1935. Victoria and Albert Mills were then acquired by the International Cotton Waste Co Ltd of Dukinfield. In 1947 Albert Mill was bought from the waste company by William Kenyon & Sons (Dukinfield) Ltd.
When Kenyon's first occupied Albert Mill it was observed that there were rills in the ground floor along which water once flowed to keep the humidity high in order to reduce the incidence of yarn breakage.
The ground floor of Albert Mill was occupied by the Kenyon steel fabrication company and the third floor by the offices of the Kenyon Vicuclad company. The latter company specialised in the manufacture of thermal cladding made from exfoliated vermiculite, which was used as cladding in steel-framed buildings to reduce the risk of bending and collapse of columns and beams in the event of fire. Other areas were used for research and development purposes. Albert Mill closed in 1976 and it was demolished shortly afterwards, except for an annexe on the Victoria Road side.
Victoria Mill continued to be used to process cotton waste but subsequently it too closed and it was demolished in 1987/88. As a result of the spontaneous combustion of cotton waste in Victoria Mill small fires occasionally started that required the attendance of the fire brigade but fortunately none of these was serious.
Astley Mill, Dewsnap Lane
This mill was opened on the 13 Jun 1885 by Mrs Nicholson, wife of a company director, using an inscribed silver key. The architects were A H Stott & Sons of Manchester and Oldham, that is, Abraham Henthorn Stott Sr, Jesse Ainsworth Stott and Abraham Henthorn Stott Jr. The contractor for the building was Aaron Houghton of Godley. Astley Mills Co Ltd went into liquidation in 1931 and the mill was demolished in 1935.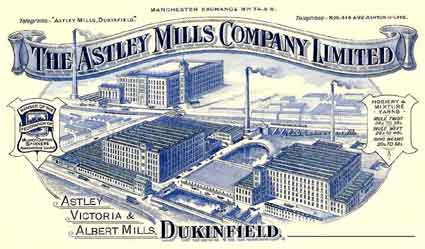 Left: Astley Mill, Dewsnap Lane, c.1900 and right: Letterhead of Astley Mills Co Ltd.
Picture Gallery
Click thumbnails for full pictures, then click browser back button/arrow to return here
| | |
| --- | --- |
| | The north-west corner of Albert Mill seen from Victoria Road, 20 Aug 1976. The tower on the corner is where the stairs and lift were located and the smaller one on the left is the rope race, which was used to transmit power from the engine house to all floors of the mill. The engine house is on the extreme left. |
| | Datestone for 1873 over the engine house of Albert Mill, 20 Aug 1976. |
| | The rear of Albert Mill, 20 Aug 1976. The engine house is on the right and part of Victoria Mill can be seen on the extreme right. |
| | The mill pond between Victoria and Albert Mills, with Victoria Mill on the right, 20 Aug 1976. The low building in the background has a roof typical of a weaving shed with north-facing lights but it is understood that it was used for storing spun yarn. Its proximity to water would help to keep its humidity high, which reduced the incidence of yarn breakage. |
| | The ground floor of Albert Mill, 20 Aug, 1976. This shows the array of cast-iron columns supporting the jack arches on which the floor above was laid. It is understood that the ground floor once had runnels in it for water in order to keep the humidity high. |
| | Detail of ground-floor column, 20 Aug 1976. This view shows the capital of one of the columns. Two beams are bolted together around a peg on top of the column. The beams have brackets cast into them, which support the cast-iron joists Note the jack arches springing from the joists. |
| | The first floor of Albert Mill, 20 Aug 1976. |
| | The second floor of Albert Mill, 20 Aug 1976. It was not possible to photograph the third floor as it contained offices that blocked the view. |
| | The fourth floor of Albert Mill, 20 Aug 1976. |
| | Detail of fourth floor column, 20 Aug 1976. This view shows the capital of one of the columns, which consists of a U-shaped saddle in which a beam rests. The design is different than for the ground floor because the load that the columns have to bear is less. |
| | The engineering works of Daniel Adamson & Co on the opposite side of the Great Central Railway line to Albert Mill. Daniel Adamson was an engineer who became a successful manufacturer of boilers and steam engines and was the chief promoter for the construction of the Manchester Ship Canal that opened on the 1 Jan 1894. |