Upper Peak Forest Canal
Ridge Quarry, Marple
Plot details for the Tithe Map record the site of Ridge Quarry as the 'Stone Quarry On The Ridge', the landowners being given as 'Landowners of Marple'. The smaller quarry, by the canal, was not recorded as a quarry. The plot was called 'Little High Piece' and the landowner in 1850 was Peter Arkwright, who succeeded his father, Richard Arkwright Jr, and Samuel Oldknow. Similarly, the site of the coal shaft, between Hollinwood Lane and the Upper Peak Forest Canal, was not recorded. This plot was called 'Pye Greave & Hollinwood' and the landowners were the Executors of Joseph Johnson.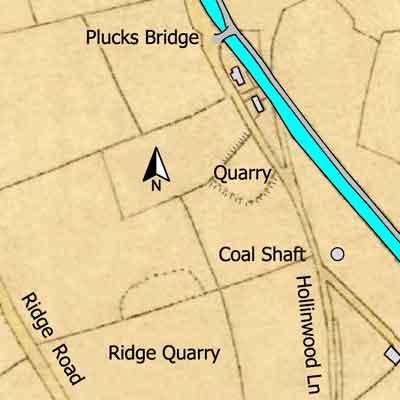 Ridge Quarry
Upper Peak Forest Canal
Grid Ref: SJ 965 868
Tithe Map: 1850, Ref: EDT 262/2
Courtesy: Cheshire Archives & Local Studies
Ridge Quarry is now a small area of woodland consisting mainly of birch and oak known as Ridge Quarry Wood.