Upper Peak Forest Canal
SamueL Oldknow's Coal Pits at Marple
While Samuel Oldknow was building his lime kilns at Marple Lime Works to burn limestone transported from Bugsworth Basin at the terminus of the Peak Forest Canal, he also needed a supply of coal from local pits to fire the kilns. To accomplish this, three pit shafts were sunk near Brick Bridge, all on the west bank of the canal. At least one of these pits must have been operational by the 31 Aug 1796 when the upper level of the canal opened for trade thus enabling limestone to be brought to Marple Lime Works for burning. All three shafts were sunk to the Yard Mine (coal seam). However, it is known that Oldknow supplemented the coal from these pits by purchasing coal from Hag Bank Colliery alongside the canal at a distance of about 2.2 miles from Top Lock (lock 16) of the Peak Forest Canal.
Referring to the three pits near Brick Bridge; Shaft 1 was sunk to the north of the bridge, alongside the canal towpath near Churchgate Lodge, and Shaft 2 (Picky Wood Pit) was sunk adjacent to the bridge. Shaft 3 (Arm Pit) was sunk to the south of the bridge and this was provided with a short canal arm to facilitate boat loading.
After Oldknow's death in 1828, ownership of the land, lime kilns and coal pits passed to Richard Arkwright Jr because at the time of his death Oldknow was in considerable debt to the Arkwright family. The next owner was Peter Arkwright.
In 1860 a pit shaft was sunk at Marple Lime Works to minimise the transport of coal and the three original pits would have been abandoned. The shaft of the new pit was 38-yards deep and it also accessed the Yard Mine. This became known as Peacock Pit (aka Marple Pit) but the origin of the name 'Peacock Pit' is obscure. It is possible that it was originally thought to be the same coal seam as the Peacock Mine at Hyde that was worked in both Hyde Lane Colliery and Peacock Pit a short distance to the south of Hyde Lane Colliery.
By 1875, Jesse Tymm was in control of lime burning and coal mining at Marple and his brother, Wright, was a junior partner in the business. In its final years only around 10 or 12 coal miners were employed in Peacock Pit and it closed in October 1893.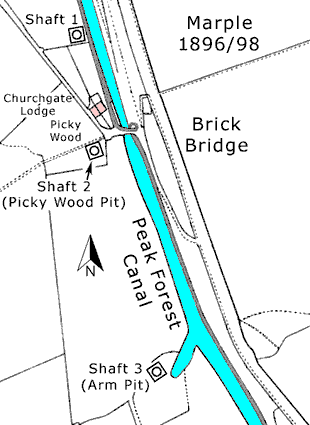 Location map of the three pit shafts.
Subsequent coal mine records confirm that the Yard Mine (coal seam) extends in a south-easterly direction from Top Lock. It is at a depth of about 35 yards and after the abandonment of Oldknow's three pits in 1860 it continued to be worked at Marple Lime Works. The table below shows the approximate distances of the three pit shafts from Top Lock.
Description
Distance SE
of Top Lock
(yards)
Shaft 1
372
Shaft 2
(Picky Wood Pit)
459
Shaft 3
(Arm Pit)
667