Upper Peak Forest Canal
Bothomes Hall Swivel & Foot Bridges,
Bridgemont
These two bridges were situated 286 yards before Whaley Bridge Junction and they were provided to give access to Bothomes Hall (aka Bottoms Hall) from the Manchester – Buxton turnpike. A boat dock was situated on the offside of the canal 88 yards further on than these bridges and this was owned by Richard Fox, a boat builder.
Previously, Bothomes Hall was situated at Bridgemont, Yeardsley-cum-Whaley, Cheshire, now Bridgemont, Whaley Bridge, Derbyshire. It was built in 1670 as a Dower House associated with the Legh family of nearby Lyme Hall, Disley. By the 1840s (Cheshire Tithe Map, 1836-51) it had passed into the ownership of John Robinson who farmed the surrounding land.
The 1881 and 1891 Censuses record that the hall was occupied by James Kirk, a farmer, and his family. By 1939 the hall was in multiple occupancy but the principal occupier was James Kirk's son, Algernon Kirk, a retired coal agent. He was born on the 14 July 1868 and in 1891 he married Emily Thackeray in the Chapel-en-le-Frith District. He died in 1941 but it is understood that the hall remained in the ownership of the Kirk family until c.1952.
In the 1980s the hall was compulsory purchased as part of the Whaley – Chapel by-pass scheme, after which it fell into ruin. In the first decade of the 21st century the building was rescued and restoration work commenced.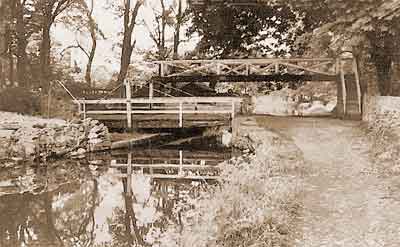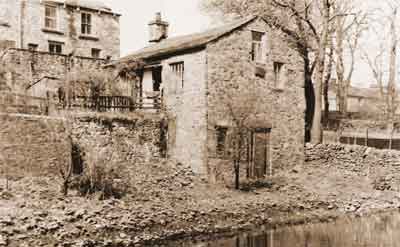 The original Bothomes Hall Swivel and Foot Bridges, Bridgemont, looking north towards Marple, early 20th century.
Neither of these bridges is now extant.
The workshop of the late Richard Fox, boat builder, adjoining the boat dock on the offside of the canal at Bridgemont, early 20th century.
The workshop is at canal level and the Bridgemont Mission Hall, founded by his wife, Ann, is on the upper floor.
This building is no longer extant.