Brindley Bank & Hazelhurst Aqueducts
Brindley Bank Aqueduct
This four-arched structure was built by James Brindley to carry the Trent and Mersey Canal over the river Trent at Brindley Bank, near Rugeley, Staffordshire.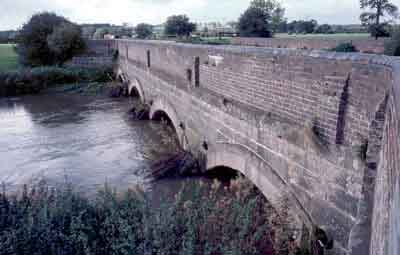 This major feat of civil engineering by Brindley was achieved by first building half the structure on dry land and then excavating a channel used to divert the river under the new structure. This enabled the other half to be built on dry land and when complete the river was let go so that it could flow along both its natural and man-made channels. This technique had the advantage of increasing the size of the channel to provide capacity for floodwater.
Brindley's aqueducts are characterised by being very broad and sturdy structures because they had to withstand the weight of water as well as the mass of clay puddle used to contain it. The canal was designed to follow the natural contours of the land as much as possible and at this point the river Trent should have been crossed on the slant. Instead, the crossing was made at 90º because the technology to build skew arches, that could transmit lateral thrust to the abutments, had not been developed at that time. Consequently, Brindley always made river crossings at 90º and in this instance the canal also has a 90º bend in it at one end.
Although this aqueduct is substantial it was not the longest that he built on the Trent and Mersey Canal. His longest was the nine-arched aqueduct, which takes the canal over the river Dove at Clay Mills, near Burton-upon-Trent, Staffordshire.
Hazelhurst Aqueduct
This aqueduct is situated at Hazelhurst Junction on the Caldon Canal where the canal divides, the main line descending through three locks in an easterly direction to join the river Churnet, while the Leek Branch continues along the contour to cross the main line on the single-arched Hazelhurst Aqueduct.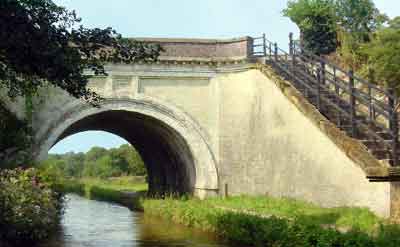 <!>