John Pollitt
of Chapel Green,
Denton, Lancashire
John Pollitt (1803/04-1854) was a schoolmaster and Parish Clerk of Denton Old Chapel (St Lawrence's Church). He became a pupil teacher of Thomas Hyde Beeley (died 1834) who was succeeded by his son John Hyde Beeley but he resigned in 1837, possibly due to ill health.

Following the resignation of John Hyde Beeley, John Pollitt was appointed as a schoolmaster and in May 1847 he was also appointed as the Parish Clerk in succession to George Bowker Cock. He remained in these two posts until his death in 1854. He was also an enumerator for the 1851 census.

The school was situated on Chapel Green, adjoining the Old Chapel, and it was founded in 1769. It was used as both a day and Sunday school and the subjects taught were reading, writing and accounts (arithmetic). Every Sunday, the Revd William Parr Greswell paid 2s 6d to each of the three teachers. After the death of John Pollitt the school building ceased being used for educational purposes and it was converted into an engineering machine shop but in 1867 this was demolished. The only part of the school to be saved was a commemorative stone tablet which was rescued and placed against the churchyard wall, by the lychgate, the location being close to the site once occupied by the school.

<!>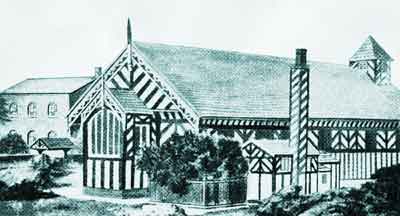 <!>
This SCHOOL & HOUSE were rebuilt, by Public Subscription in the year of our Lord 1814. Thomas Whitehead. Joseph Howard. Chapel Wardens.

<!>

The number of scholars attending the day school in 1853 was recorded as 66 boys and 40 girls and the number attending the Sunday school was 185 boys and 181 girls. The school had a library of 200 volumes.

Shortly before he died, John Pollitt began writing articles for the Strines Journal which was a free newspaper published between 1852 and 1860 by two employees of the Strines Printing Company, situated in the Goyt Valley near Marple, Cheshire. The connection between John Pollitt and the Strines Journal came about in a convoluted way. Joseph Sidebotham (17 Jan 1824-30 May 1885) was a member of a mill-owning family who operated the nearby Gibraltar Mill at Gee Cross, Hyde. The Revd William Parr Greswell, rector of Denton Old Chapel, tutored Joseph who later attended Stockport and Manchester Grammar Schools. In 1847 he became a senior partner in the Strines Printing Company, near Marple, Cheshire, of which he was a partner for about 33 years. He was also the patron for the construction of St Anne's Church, Haughton, in 1881/82.

The Family of John Pollitt
John Pollitt was born in 1803/04 and, according to the 1851 census, he was born at Haughton, Lancashire. His parents were probably William Pollitt and Mary Torkington who were married at Manchester Cathedral on the 5 May 1801. John's wife was Mary Yates (1805/06-1884), the daughter of William and Elizabeth Yates (née Rawson) who was baptised at Denton Old Chapel on the 9 Feb 1806. The couple were married on the 9 Sep 1834 at St John's Church, Deansgate, Manchester. At the time of his marriage, John Pollitt was a warehouseman.

John and Mary Pollitt had eight children who, with the exception of William, were baptised at Denton Old Chapel.
Names
Where Born
Birth/Baptism
Death
William
Stockport
18 Oct 1835, baptised at
St Mary's Church, Stockport
Thomas
Haughton
1837
Elizabeth Yates†
Denton
2 Feb 1840
Ann
Denton
24 Dec 1843
John
Denton
3 May 1846
Samuel
Denton
23 Apr 1849
May 1849
Joseph
Denton
23 Apr 1849
May 1849
Mary
Denton
6 Oct 1850
†Elizabeth's middle name, Yates, was added after registration.
1841 Census
Chapel Green, Denton
Note: Adult ages rounded down to a multiple of five
Names
Age
Occupation
Born
in Lancs
John POLLITT
35
Schoolmaster
Yes
Mary POLLITT
35
Yes
William POLLITT
5
Yes
Thomas POLLITT
3
Yes
Elizabeth POLLITT
1
Yes
Ann YATES‡
15
Yes
‡Ann Yates was a relative of Mary Pollitt.
1851 Census
Chapel Green, Denton
Names
How
Related
Status
Age
Occupation
Where Born
John POLLITT
Head
M
46
Schoolmaster
Haughton
Mary POLLITT
Wife
M
45
Schoolmistress
Denton
William POLLITT
Son
Unm
15
Scholar
Stockport
Thomas POLLITT
Son
13
Scholar at home
Haughton
Elizabeth POLLITT
Daur
11
Do do
Denton
Ann POLLITT
Daur
8
Do do
Denton
John POLLITT
Son
5
Do do
Denton
Mary POLLITT
Daur
6 mo
Denton
The Burial Register of Denton Old Chapel records the following: John Pollitt of Denton died on the 30 Oct 1854, aged 50 years. Clerk of this Chapel for upwards of 9 years, and Superintendent of the Sunday School.
Acknowledgement
Thanks to J Robinson for information about John Pollitt and his family.
Further Reading
Middleton, Thomas, 1936. History of Denton and Haughton. Hamnett Street, Hyde: J Andrew & Co Ltd.