Samuel Oldknow
(1756 - 1828)
Businessman of Marple, Cheshire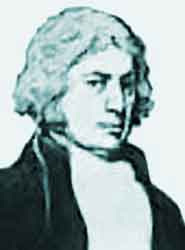 Samuel Oldknow
These facsimile records relate to the business activities of Samuel Oldknow and to the carrying of limestone, coal and road stone on the Peak Forest Canal to his lime works at Marple. The whereabouts of the original records is unknown, or even if they still exist.
Samuel Oldknow was born in Lancashire and he served an apprenticeship at a draper's shop belonging to his uncle in Nottingham. He subsequently moved to the Manchester area where he became a cotton manufacturer and to enable him to do this he purchased a number of spinning mules that had been invented by Samuel Crompton in 1779.
He specialised in the manufacture of muslin, a fine, delicately woven cotton fabric, which sold well in major northern towns and in London. In 1785 he opened a business in Stockport where he employed over 300 outwork weavers. Subsequently, he built a mill in the town powered by a Boulton and Watt steam engine. In 1790 he opened another mill in Mellor, Derbyshire.
His various business interests, including lime burning at Marple and the construction of the Peak Forest Canal, were principally financed by the Arkwright family of Cromford, Derbyshire. Firstly by Sir Richard Arkwright and following his death by his son, Richard Arkwright Junior, to whom he was substantially in debt. In 1797/98 there was a trade depression, after which he concentrated on running his mill at Mellor.
| | |
| --- | --- |
| Tickets for the sale of burnt lime (i.e. lime) at Marple Lime Works, 1808 - 1809. | |
| Statements of Account relating to Samuel Oldknow's business activities at Marple and Mellor, 1789 - 1811. | |
| Fragmentary Records of limestone, road stone and coal carried on the Peak Forest Canal, 1800 - 1807. | |
Samuel Oldknow's website »