St Mary's Church
Bower Court, off Talbot Road,
Newton, Hyde, Tameside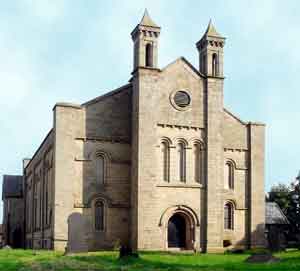 St Mary's Church.
The church was built in an Italian Romanesque style with semi-circular arches, usually referred to as Norman architecture, and the west façade has two turrets. It was erected in 1837/39 for the Church Commissioners to a design by the Manchester architects Hayley and Brown who were William Hayley (1796-1860) and Thomas Brown (1788/89-1840). The church interior originally had two galleries but a third was added when a new chancel was built, with other alterations, in 1876/77 by the Manchester architects Medland and Henry Taylor who were James Medland Taylor (aka Medland Taylor, 1834-1909) and Henry Medland Taylor (aka Henry Taylor, 1837-1916).
St Mary's Church, Newton, was listed Grade II on the 6 Feb 1986, List Entry No. 1162405.
The land for the church was given by John Ashton (1800-29 Jul 1844), a member of the local mill-owning family. Inside the church there is a memorial to John and his father, James Ashton (1777-23 Jan 1841) of Newton Lodge, off Lodge Lane. The lodge and grounds were given to Hyde by the Ashton family in 1902 and the grounds were opened as a park in 1904. The lodge was demolished in 1937/38 and replaced by Bayley Hall.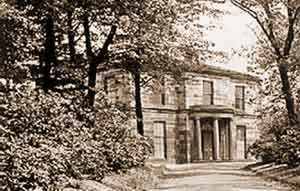 Newton Lodge.