Samuel Hardy
of Beat Bank, Denton, Lancashire
Samuel Hardy (1791-10 Apr 1865) was a veteran of the Napoleonic Wars (1803-1815) that were fought as a continuation of the French Revolution of 1789. He was born at Beat Bank, Denton, in 1791 and he was the second son of William Hardy, a carpenter. As soon as he was old enough to work he was apprenticed to Thomas Shaw, a shoe maker (cordwainer), who had premises at Three Lane Ends, in the vicinity of the Masons Arms at the junction of Long Ln, Stockport Ln and Two Trees Ln.
On completion of his apprenticeship he joined the militia. At this time there were two forces described as militia. One was a military body whose function was to preserve internal order and defend the locality against invaders, while the other was known as the posse comitatus (sheriff's posse) whose function was to keep the peace and arrest felons. It is likely that Hardy had joined the former force. In 1813 he volunteered for the famous 52nd (Oxfordshire) Regiment of Foot (Light Infantry). The colonel of this regiment was Sir John Colborne (16 Feb 1778-17 Apr 1863), later Field Marshal John Colborne, 1st Baron Seaton, GCB, GCMB, GCH, who was born at Lyndhurst, Hampshire, and educated at Christ's College, London and Winchester College.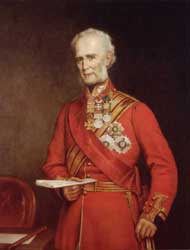 Sir John Colborne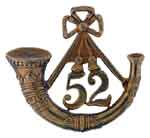 Badge of the
52nd Regiment of Foot
Under the command of Colonel Colborne, Hardy took part in fierce fighting at Nive, Toulouse, Orthes and Nivelle. However, it was at the Battle of Waterloo on the 18 Jun 1815 that the 52nd covered itself with glory for it fell to Colonel Colborne to lead the advance that determined the fortunes of the day. In so doing, the French Old Guard (veterans of the French Army's Imperial Guard under Napoleon Bonaparte) was repulsed at the close of the day. The columns of the Old Guard were gaining the summit of the British position and were forcing back one of the companies of the 95th. Colborne noticed the danger and gave the order for the 52nd to advance. The Duke of Wellington observed this movement and realising its importance he sent an order to Colborne to continue his advance. The 52nd then charged into battle with such ferocity that the columns of the Old Guard could not resist. This charge by the 52nd has been classed as one of the most brilliant in the annals of the British Army. During the engagement, Hardy was wounded in the arm by a musket shot.
By 1820, Hardy was back in England and he was billeted at Derby where he met and married a farmer's daughter. It is likely that she was called Sarah Wheatley and the couple were married on the 6 Nov 1821 at Sawley, Derby. The couple's first child, James, was born in Derby at about the same time. Sarah was the daughter of William Wheatley and she was Christened on the 3 May 1795 at Sawley and Long Eaton, Derby. Hardy purchased his discharge from the army and returned to Lancashire with his wife and infant son. The couple settled on Broom Ln, off Hyde Rd, Haughton, where he took up his shoe making trade. It is understood that he was also a boot maker for the military for which he gained a good reputation. In 1858 he was awarded a pension of 6d per day, which was afterwards increased to 9d per day. He died on the 10 Apr 1865, aged 74 years (Ref. DEN/9/54) and he was buried in the graveyard of Denton Chapel (St Lawrence's).
1841 Census
Bentley's Buildings, Broom Ln, Haughton
No relationships were given and ages were rounded down to a multiple of five.
Name
Age
Occupation
Born
in Lancs
Samuel HARDY
45
Shoe Maker
Yes
Sarah HARDY
35
No
James HARDY
20
Shoe Maker
No
William HARDY
15
Apprentice
Shoe Maker
Yes
Samuel Hardy
10
Yes
Mary Hardy
5
Yes
1851 Census
Broom Ln, Haughton
Name
Status
Condition
Age
Occupation
Where Born
Samuel HARDY
Head
Widower
60
Cordwainer
Denton, Lancs
William HARDY
Son
Unm
28
Cordwainer
Haughton, Lancs
Sarah HARDY
Daur
Unm
21
Domestic Work
Haughton, Lancs
Samuel HARDY
Son
Unm
18
Piecer (Cotton)
Haughton, Lancs
Mary HARDY
Daur
15
Power Loom Weaver
(Cotton)
Haughton, Lancs
1861 Census
Bentley Cottages, Broom Ln, Haughton
| Name | Status | Condition | Age | Occupation | Where Born |
| --- | --- | --- | --- | --- | --- |
| Samuel HARDY | Head | Widower | 70 | Cordwainer | Denton, Lancs |
| William HARDY | Son | M | 38 | Cordwainer | Haughton, Lancs |
| Susannah HARDY† | Daur | Unm | 32 | | Haughton, Lancs |
| Samuel HARDY | Son | Unm | 30 | Cotton Card Grinder | Haughton, Lancs |
| Elizabeth HARDY‡ | D-in-L | M | 31 | Dress Maker | Ashbourne, Derbys |
†Sarah HARDY in 1841.
‡Married to William Hardy.
In 1881, the circumstances of Samuel Hardy's three sons were as follows: James Hardy was living in Mill Ln, Hyde, with the occupation of boot maker, William Hardy was living in Hyde Rd, Haughton, with the occupation of boot and shoe maker and Samuel Hardy was living in Rochfort St, Newton, Hyde, with the occupation of grinder in a mill.
Further Reading
Middleton, Thomas, 1936. History of Denton and Haughton. Hamnett St, Hyde: J Andrew & Co Ltd.