Dukinfield Town Hall
Dukinfield, Tameside
The town hall is situated on King Street and it was built between 1899 and 1901, opening on the 28 Jun 1901. It was built in the Gothic style and is of Accrington brick construction with Yorkshire sandstone dressings and a slate roof. It is E-shaped in plan, two storeys high with a basement, and a symmetrical front. In the centre is a clock tower containing the entrance with steps leading up to a doorway. It cost nearly £15,000 to build it and was designed by Messrs John Eaton Sons and Cantrell of Ashton-under-Lyne. A Mr Hague acted as clerk of works.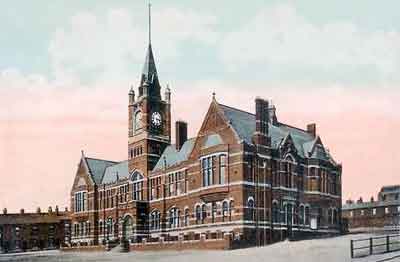 The architectural practice of John Eaton Sons and Cantrell was formed in 1895 and the partners were Colonel John Eaton (1838-1905) and William Revner Cantrell (1858-1932). Colonel John Eaton was a J.P. and Colonel of the 3rd Volunteer Battalion of the Manchester Regiment (Ashton Volunteers). William Revner Cantrell was articled to him in 1877.
In 1899 a Charter of Incorporation was granted to Dukinfield and the town hall was commissioned as a symbolic expression of the town's new civic status following its incorporation as a borough.
The town hall was listed Grade II on the 9 Feb 2012, List Entry No. 1403441.