St Luke's Church
King Street, Dukinfield, Tameside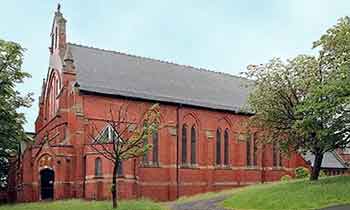 St Luke's Church.
This Anglican church is on the east side of King Street and it opened in 1889. However, the 1881 census records that the curate of St Luke's was the Revd William Quibell who was resident on Old Road, Dukinfield. This indicates that the present church is the second Dukinfield church with this name.
Revd William Quibell was born at Hull, Yorkshire, in 1857 and he married Louisa Wileman at Lincoln in 1883. By 1891 he was a rector at Keele, Staffordshire. He died at Lincoln on the 9 Oct 1940.
The architect was John Eaton Jr (1838-25 Nov 1905) of John Eaton & Sons whose architectural practice was at Ashton-under-Lyne. Of his many architectural commissions the jewel in his crown is undoubtedly Dukinfield Town Hall that opened on the 22 June 1901. In addition to being an architect, John Eaton was the Lieutenant Colonel and Honorary Colonel of the 3rd Volunteer Battalion of the Manchester Regiment (Ashton Volunteers). In 1902 he was awarded membership of the Military Division of the Knights Grand Cross of the Most Honourable Order of the Bath (KCB). He was connected with Christ Church, Oldham Road, Ashton-under-Lyne, and he was buried in the churchyard with full military honours.
Left: Revd William Quibell.
Right: Colonel John Eaton.
St Luke's Church was listed Grade II on the 26 Oct 1989, List Entry No. 1084304.