St John's Church
Vicarage Drive, Dukinfield, Tameside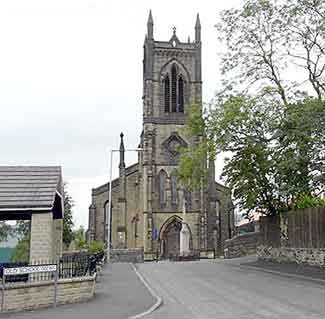 St John's Church viewed looking east from the corner of Vicarage Drive and Old School Mews.
This Anglican church was built in 1838-41 and the architect was Edmund Sharpe
(1809-1877) of Lancaster on behalf of the Church Commissioners. Edmund Sharpe was born at Knutsford, Cheshire, but in 1823 his father died and in 1824 he moved with his mother and sister to live at Lancaster.
The church is built of stone with a slate roof and it stands on the south side of Oxford Road in an elevated position at the top of a low hill.
St John's Church was listed Grade II on the 6 Feb 1986, List Entry No. 1068017.