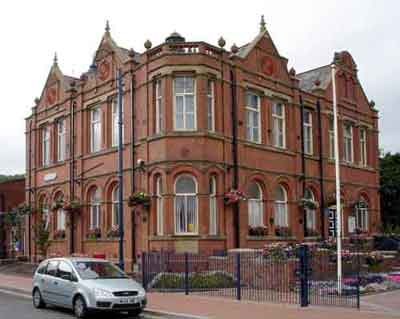 Town Hall, 24 July 2005.
Queen Victoria
Prince Albert
The laying of the foundation stone was reported in the Manchester Times on Saturday, 5 May 1888.
Free Library for Denton and Haughton.
At Denton on Saturday the foundation stone was laid of a building intended to commemorate the jubilee of the queen's accession to the throne. Several months ago, when jubilee celebrations were taking place in every part of the kingdom, the leading inhabitants of Denton and Haughton considered the advisability of erecting a memorial of the national event. A free library and science class institute was suggested, and the proposal was received with manifest approbation. At a public meeting the Free Libraries Act was adopted with enthusiasm, and large sums of money subscribed by the manufacturers of the district. An influential committee was formed, and twenty-five guineas were offered for the best design of a building suitable for the object in view. The premium was awarded to Messrs. T. D. and J. Lindley, architects, of Ashton-under-Lyne, who evolved a design of considerable classical elegance. Land was secured at the corner of Market-street and Albert-street, and upon this site the initial stage in the erection of the building was completed on Saturday.


The event was attended with every success. The inhabitants of the district joined heartily in the demonstration. A procession, composed of the members of the Free Library Committee, the Denton and Haughton Local Board, the local orders of Oddfellows, Foresters and Masons, the fire brigades of Denton, Hyde, Dukinfield, Stalybridge, and Ashton, together with the children and teachers of the various Sunday schools of the district, paraded the principal streets, accompanied by half-a-dozen brass bands. The weather being fine large numbers of persons congregated in the streets, and at the site of the proposed memorial there was a gathering of 5,000 of the inhabitants. A temporary stage had been erected, upon which were the principal promoters of the institute.


The gathering included Mr. Edward J. Sidebotham, Mr. Lees Broadbent, chairman of the Free Library Committee; the Rev. D. Rowe, the Rev. P. A. Schonberg, the Rev. W. Howe, the Rev. R. Smith, the Rev. J. Kelty, Mr. Rothwell, Mr. Mark Taylor, Mr. Moores, Mr. W. Howe, Mr. E. Walker, Mr. E. Hyde, Mr. P. Irwin, Mr. W. S. Fidler, Mr. J. Hartley, Mr. E. Oldham, Mr. T. Woolfenden, Mr. J. C. Howe, Mr. T. Dunks, and others. Mr. Woolfenden read a letter which had been received from Mr. R. Peacock, M.P., regretting his inability to take part in the ceremony, and assuring the promoters of his hearty sympathy and approval. Mr. Broadbent afterwards delivered a short address, in the course of which he gave a history of the movement, and Mr. Woolfenden read the report of the committee appointed to carry out the wishes of the inhabitants. The report stated that already £1,667 13s. 6d. had been subscribed, and the committee confidently anticipated that £2,000 would be subscribed by the time the building was ready for occupation. The contract had been let to Mr. Joseph Clayton, of Denton, for £1,660. The report also stated that Mr. R. Peacock, M.P., had generously promised to contribute another £50 towards buying the books necessary for the institution. Mr. W. Baxendale then presented a trowel and mallet to Mr. Sidebotham, who proceeded to lay the stone. He afterwards congratulated the gathering on the public spirit which had manifested, and wished every success for the institution. A vote of thanks to Mr. Sidebotham and Mr. Broadbent concluded the proceedings. In the evening a meeting was held in the People's Hall, which was numerously attended.
The opening ceremony was reported in Manchester Times on Saturday, 7 September 1889 as follows:
New Library at Denton
The new free library for Denton and Haughton was opened on Saturday afternoon by Mr. Alderman Walton Smith, chairman of the Manchester Free Libraries Committee. This institution is one of the best of the enterprises undertaken in celebration of the Jubilee year. The town does not possess a handsomer public building. The cost of the whole building and furnishing will be about £2,700, of which £2,592 16s. 1d. has been raised. The ceremony of opening the library was performed without much demonstration.


Mr. Alderman Walton Smith and several members of the Local Board and of the Free Libraries Committee assembled in front of the building at four o'clock, and a crowd gathered round them. Mr. Lees Broadbent, chairman of the Local Board, occupied the chair. Mr. T. Woolfenden, honorary secretary, read the third report he has prepared since the beginning of the scheme. There were, he said, 1,083 books in the library. Mr. Alderman Walton Smith, before formally opening the building, made a short speech. He said it was noble commemoration of her Majesty's Jubilee to erect a building like this, so as to provide for the people of Denton and Haughton good books and a comfortable place to put them in. Mr. W. Tweedale, treasurer of the Libraries Committee, handed over the institution to the Local Board, and the Chairman returned thanks on behalf of that body. Mr. Alderman Walton Smith then opened the door of the library with a key supplied to him, and declared the institution open. Cheers followed the announcement. The building was thrown open for public inspection.
Subsequently, the Free Library & Technical School was built in Peel Street and the original library was then converted into the town hall, which was opened on the 6 March 1899 by the Chairman of Denton Urban District Council, Councillor Thomas Woolfenden JP. The reason for this is that on the 19 April 1894, the Local Boards of Denton and Haughton had amalgamated to form Denton Urban District Council and this meant that more accommodation was needed for an increase in the number of councillors. Accordingly, it was decided to use the free library as the town hall and the conversion work was done by Joseph Clayton at a cost of £800.
Thomas Woolfenden was born in Denton in 1851 and he was a hat manufacturer at Dane Bank. In 1901 he was living at 106 Manchester Road, Denton. Joseph Clayton was born in Audenshaw in 1838 and he was a building contractor. In 1901 he was living at 266 Manchester Road, Denton.
Clerk to Council and Solicitor: William Richards (Commemorated by a plaque in the town hall)
Treasurer: Joseph Dunn
Medical Officer of Health: William Stewart
Consulting Surveyor: George Harry Newton
Surveyor: John B Cooke, Jun
Collector of Rates: Frederick Irwin
Inspector of Nuisances: Augustus C Brocklehurst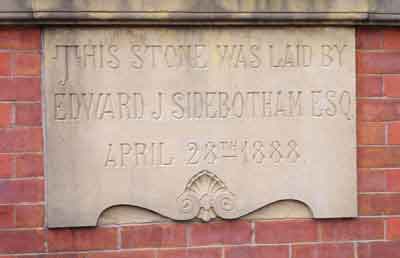 Foundation Stone, 24 July 2005.*
*Edward John Sidebotham MB JP, who laid the town hall foundation stone, was a major landowner in Haughton, which had amalgamated with Denton in 1884. He was born 1860 at Ashton-on-Mersey, Cheshire, and in 1891 he was a retired medical practitioner living at Erlesdene, Green Walk, Bowdon, Cheshire.
| | |
| --- | --- |
| | |
| The former Council Chamber, 16 June 2007. | Panel listing the Chairmen of Denton Council, 16 June 2007. |
Chairmen of Denton Council from 1895 until its dissolution in April 1974.

| | | | | | | |
| --- | --- | --- | --- | --- | --- | --- |
| William Howe 1895-6 Edwin Oldham 1896-7 Thomas Woolfenden 1897-8 Thomas Woolfenden 1898-9 Peter Richardson 1899-1900 Jonathan Moores 1900-01 John James Duncan 1901-02 Joseph Linney 1902-3 A B Moores 1903-04 Thomas Mallalieu 1904-05 Joshua Broadbent 1905-06 John T Hulse 1906-07 William Thorpe 1907-08 J A Middleton 1908-09 James A Middleton 1909-10 Charles W Smith 1910-11 Alfred Brown 1911-12 Alfred Brown 1912-13 Robert Harrison 1913-14 Robert Harrison 1914-15 William Ollerenshaw 1915-16 Albert Edwin Ollis 1916-17 George Lowerson 1917-18 Edward William Slater 1918-19 John Bardsley 1919-20 | | John Bardsley 1920-21 William Chadwick 1921-22 William Chadwick 1922-23 George Henry Patchett 1923-24 Thomas Mallalieu 1924-25 Thomas Booth Moores 1925-26 Thomas Booth Moores 1926-27 Alfred Brown 1927-28 Fred Worthington 1928-29 Fred Worthington 1929-30 Fred Worthington 1930-31 John Bardsley 1931-32 John Bardsley 1932-33 John Bardsley 1933-34 Thomas Henry Whiteley 1934-35 Thomas Henry Whiteley 1935-36 T Kirk 1936-37 T Kirk 1937-38 W G Smith 1938-39 S Morrow 1939-40 G P West 1940-41 J Roberts 1941-42 F Thompson 1942-43 | | P Wilson 1943-44 J H Booth 1944-45 J W Blackshaw 1945-46 Mrs M J Clephan 1946-47 S Walker 1947-48 R E Mather 1948-49 W Houghton 1949-50 A Hewitt 1950-51 Mrs E W Brown 1951-52 B McMahon 1952-53 E Doodson 1953-54 W H Marsland 1954-55 Fred Worthington 1955-56 G R Harris 1956-57 Frank S Ainsworth 1957-58 Mrs M Moores 1958-59 J Devaney 1959-60 H Hallows 1960-61 J R Martin 1961-62 Kenneth Marks 1962-63 P H Armstrong 1963-64 M Wareing 1964-65 E French 1965-66 William T Prescott 1966-67 A Parsonage 1967-68 | | H Hallows 1968-69 R Abbey 1969-70 N T Smith 1970-71 Fred Adshead 1971-72 J Devaney 1972-73 I McDonald 1973-74 |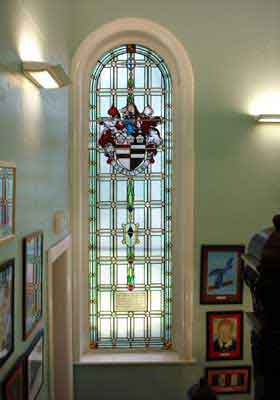 Commemorative staircase window, 16 June 2007.
It bears the Coat-of-Arms of Denton and a commemoration of the Silver Jubilee of King George V.
This window was erected
to commemorate the
Silver Jubilee of the
Reign of His Majesty
King George V. 1910-1935.
Curiously, the upper part of the window shows the Civic Arms of Denton Urban District Council, granted on the 23 March 1936 during the reign of Edward VIII, while the lower part shows that the window was erected to commemorate the Silver Jubilee of George V on the 6 May 1935.
Denton chairmen:

1857, William Peacock
1858-59, John Gould
1860-61, Joseph Baxendale
1862, John Peacock
1863-65, John Bentley
1866-69, Peter Rothwell
1870-71, Mark Taylor
1872-1873, John Wade Taylor
1874, W W Cooke
1875-1876, James Woolfenden
1877-78, William Howe
1879, Thomas Moores
1880, Mark Taylor
1881, Joseph Clayton
1882, James Woolfenden
1882-83, Edwin Walker
Known Haughton chairmen:

1877/78, Rev. Charles James Bowen M.A.†
1884, Elijah Hyde‡
Denton & Haughton Local Board chairmen:

1884, Jonathan Moores
1885, Thomas Walker
1888-89, Lees Broadbent
1890, Herbert Trubshaw
1891, Elijah Hyde
1892-93, Thomas Irwin
and to Dec 1894, Thomas Irwin
Denton Local Board
Haughton Local Board
Name
Comments
Name
Comments
William Howe
Chairman
Rev. Charles James Bowen M.A.†
Chairman
Lees Broadbent
Samuel Axon
Joseph Clayton
J T Birdwhistle
T Gravinar (?)
J H Higginbotham
Wiliam Howe
Elijah Hyde‡
Charles Marlor
William McCandlish
Jonathan Moores
Joah Rayner
Thomas Moores
Thomas Walker
Peter Rothwell
William Walton J.P.
Mark Taylor
Edwin Walker
James Woolfenden
John Brooks
Town Clerk
Samuel Fidler
Town Clerk, Rate Collector &
Surveyor
William J Alkin
Medical Officer
William J Alkin
Medical Officer
Thomas Wharam
Surveyor
Josiah Moores
Nuisance Inspector
T Braithwaite
Rate Collector &
Nuisance Inspector
†The 1878 Trade Directory for Denton records that the office of Charles James Bowen, as Chairman of Haughton Local Board, was on Stockport Road.
He was born in Leicester on the 13 March 1833 and he was the son of Thomas Bowen and Mary Davies. He was christened at St Nicholas's Church, Leicester, on the 29 March 1833. He married Emma Wienholt at St Margaret's Church, Westminster (often called the parish church of the House of Commons) in 1856. The couple had a son, John Godfrey Wienholt Bowen, who was born in Wellington, Somerset, in 1859. The 1881 census records that he was then the Rector of St Lawrence's Church, Denton, and he was resident on Moorside Lane, Haughton. By 1891 he had moved to Wroot, Lincolnshire. He died in 1916, aged 83 years, in the Registration District of Thorne, which spans the boundaries of the counties of Lincolnshire and the West Riding of Yorkshire, and includes Wroot.
‡Elijah Hyde was born in Haughton in c.1835 and he married Sarah Collins at St Lawrence's Church in 1860. The 1881 census records that he was a Contractor resident on Hyde Road, Haughton. He died in Chorlton-on-Medlock in 1911, aged 76 years.
On Monday, 29 September 1884 the two independent boards were amalgamated under one authority, known as the Denton and Haughton Local Board. During 1894, amidst much acrimony, the Local Government Board issued an order that the name 'Haughton' was to be struck out of the title, so Denton and Haughton Local Board became Denton Local Board. The townships of Denton and Haughton were then amalgamated by order of Lancashire County Council and the local governing body was henceforth to be known as Denton Urban District Council.