Prior to this, Jonathan Moores, the eldest son of Samuel Moores Sr, was a journeyman hatter who, at the time, was also making his own hats at home. These he took to Manchester to sell but when his employer discovered what he was doing he was immediately discharged.
The company of J & T Moores was established on Heaton Street between 1862 and 1866 and the four partners were Jonathan Moores, Thomas Moores, Samuel Moores and William Wilshaw. The identity of Samuel Moores is uncertain but it is likely to be Samuel Moores Sr because it is known that Samuel Moores Jr went on to establish Moores, Birkby, & Brown in 1872. Over the ensuing years the business continued to expand until the factory occupied most the land between Heaton Street and Catherine Street and westwards to Grey Street.
In 1872, the remaining four brothers, William Moores, James Moores, Joseph Moores and Samuel Moores Jr, together with Edward Birkby and William Brown, established Moores, Birkby, & Brown with premises on Windmill Lane.
From its establishment until 1889 the company was known as J & T Moores but in that year Thomas Moores retired and Jonathan Moores incorporated the company as J Moores & Sons Ltd. The three sons were Alfred, Thomas and Arthur and Jonathan's son-in-law, Gilbert Hinchcliffe, joined them in running the business. Gilbert died in 1890, aged 45 years¹, and Arthur died in 1894, aged 28 years, while Jonathan retired in 1897 to pay more attention to the public affairs of Denton. Jonathan had been a Councillor for some 25 years and he was Chairman of Denton Urban Council in 1900 - 1901². Following Jonathan's death, his sons, Alfred and Thomas were left to run the business. Alfred took responsibility for the curling, shaping and finishing side of the business while Thomas took responsibility for body making and dyeing.
¹Gilbert Hinchcliffe was born in 1843, so he was actually aged 47 years when he died. He married Margaret Moores at Christ Church, Denton, in 1874.

²Jonathan Moores was also a member of the local Board of Guardians. These Boards were groups of local rate payers who administered workhouses. Most Board members were elected, although some were ex officio. After 1834, Civil Parishes were enabled to form Unions with which to deal with paupers who lived in their area and to set up workhouses.
One day the company came up with a remarkably simple idea that helped to boost the sale of hats. It was noted that boots were made in half sizes but not hats. So it was decided to make hats in half sizes as well and they were given the brand name of 'Tween' hats. The concept of 'Tween' hats caught on and hat sales increased accordingly. Another inovation was the introduction of model names for hats, such as 'The Derby', and 'The Zephyrus', with matching cardboard hat boxes.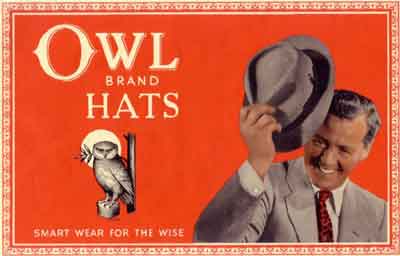 Moores bowler hat, with hat box, and advertisement for their 'Owl Brand' hats.
Another associated motto was, 'WISE MEN WEAR OWL BRAND HATS'.
Moores 'Tween' bowler hat, size 7½.
<!> <!> <!>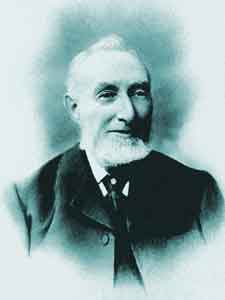 By 1892 the company was employing around 1,100 workers but, in common with the rest of industry, it was seriously affected by the depression of the 1930s. As a result, earlier plans for even more expansion never materialised. There was a small improvement in trade during the Second World War but by 1949 the company was once again in difficulties. These were caused by a changing climate of fashion, there was a growing tendency among consumers not to wear hats anymore, and the loss of some of its established export markets. There was also an increase in the cost of raw materials at this time. The company struggled with declining markets throughout the 1950s and into the 1960s. In 1966 it joined with four other hat manufacturers in Denton and Stockport to form Associated British Hat Manufacturers Ltd. The five companies were:
Christy & Co Ltd (Stockport)
Joseph Wilson & Sons Ltd (Denton)
Battersby & Co Ltd (Stockport)
J Moores & Sons Ltd (Denton)
T & W Lees Ltd (Stockport)
This arrangement was insufficient to halt its decline and J Moores & Sons Ltd ceased trading in c.1972 and was formally wound up on the 11 February 1977. To counter the decline in the hatting industry J Moores & Co Ltd attempted to diversify and at some point they established two companies, namely J Moores & Sons (Holdings) Ltd and J Moores Fabrications Ltd. The former was a holding company of a trading group and the latter were fibreglass moulders. The offices of these companies were on Catherine Street East, Denton. On the 3 August 1973 a resolution was passed to voluntarily wind up both companies. The Chairman of both companies and of J Moores & Co Ltd was Thomas Alfred Moores.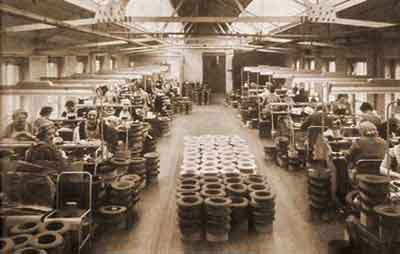 Hat trimmers finishing hats ready for sale, 1950.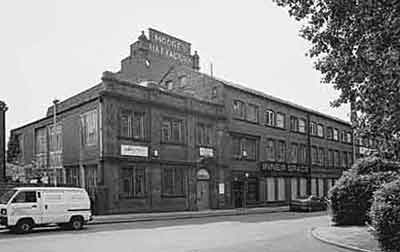 Moores Hat Factory, Heaton Street, 2 June 2007.
This view shows the main offices on the north-east corner of the complex with Seymour Street off the picture on the left.
The three-storey range on the right was a dry process area and the four-storey range behind was a dry process area used for hat finishing and warehousing. The ornate gable is embellished with 'Moores Hat Factory' in white bricks. The Ordnance Survey Map for 1922 shows none of these buildings.
Moores Hat Factory, Heaton Street, with Grey Street on the right, 2 June 2007.

This L-shaped range on the corner of Heaton Street and Grey Street is the oldest part of the complex and it is understood that it dates from 1872. Both sides were dry process areas and it may be that the Heaton Street frontage was initially used for offices and warehousing purposes.
The Grey Street frontage of Moores Hat Factory, 2 June 2007.

Here the manufacture of hat bodies occupied the ground floor while trimming was done on the two upper floors.

The chimney is embellished with 'Moores' in white bricks.
Moores Hat Factory on Grey Street, with Elizabeth Street on the right, 24 March 2008.

Situated to the south west of the complex, this large five-bay single-storey range dates from the early 1930s and it was a wet process area used for planking.
Moores Hat Factory, Elizabeth Street side, with Grey Street on the left, 24 March 2008.

The side elevation of the five-bay range.

The building of this range and other developments caused Catherine Street to be split into two parts, namely, Catherine Street and Catherine Street East, the latter being a cul-de-sac accessed from Seymour Street.
Moores Hat Factory at the eastern end of Catherine Street East, 13 April 2008.
Moores Hat Factory at the western end of Catherine Street East, 13 April 2008.