and its connection with the Hatting Trade Union Movement
Slater's Trade Directory for 1903 listed Stephen Shaw as the Publican and for a while an association of hatters' unions had offices on the premises where they shared facilities. Slater's Directory for 1909 listed John Ogden Gardner as the Publican along with the Felt Hatters & Trimmers Association who represented the men and women's unions, respectively. In 1911 the Publican was James Harding and the trade unions were still using the premises at this time.
Several unions represented workers in the hatting industry but the two principle ones were the Amalgamated Society of Journeymen Felt Hatters (for men) and the parallel Felt Hat Trimmers & Wool Formers Association (for women). These two unions had a Joint General Secretary but they had their own funds and the women's union had fewer benefits. It seems that in time the name of the women's union was shortened to Felt Hat Trimmers Association. The collective name for the two unions was the, Felt Hatters & Trimmers Unions. A smaller hatting trade union active in Denton was the Denton Silk Hat Trimmers and Stitchers Union.
During the last quarter of the 19th century, the unions managed to negotiate higher wages for their members in areas where they were strong. As there was a heavy concentration of hat works in Denton, this meant that employees there were paid higher wages than those in neighbouring areas, such as Hyde, Stockport, Manchester and Bury, where the unions were weaker or sometimes non-existent.
In order to maintain their position of strength, the unions recognised that in return they had to give some advantage to employers. This was accomplished by means of a 'Union Label' that was attached to the linings inside hats stating that these hats had been union made. To promote this, the unions mounted an advertising campaign asking people not to buy a hat unless it had this label inside it. Their motto was 'Defence not Defiance'.
The Amalgamated Society of Journeymen Felt Hatters (AJFH) and the Felt Hat Trimmers & Wool Formers Association (FHT&WF) were leading exponents of the Union Label and the scheme was introduced in January 1895. Referring to the label, a male hand on the left, marked AJFH, is shaking hands with a female hand on the right, marked FHT&WF.
Two notable Joint General Secretaries in the late 19th and early 20th centuries were George Wilde of 93 Manchester Road and Thomas Mallalieu, who was born at Witton-le-Wear, Durham. George Wilde was involved with the introduction of union labels placed inside hats. The 1901 census listed Thomas Mallalieu as living at 96 Acre Street and Slater's Trade Directory for 1903 stated that the union offices were on Manchester Road. Slater's Trade Directory for 1909 gives Thomas Mallalieu's home address as 43 Peel Street and by this time he was the Joint General Secretary of the Felt Hatters & Trimmers Unions with an office at 113 Manchester Road. He was also a Councillor on Denton Urban District Council and he was Chairman of the Council in 1904-05 and 1924-25.
The Head Office/Denton District Office of the Felt Hatters & Trimmers Unions eventually moved to 14 Walker Street, Denton, which were premises once used by Joseph Ashton Cooke, a Cabinet Maker and Upholsterer. Fred Worthington, probably the best-known Denton hatting trade unionist, followed on from Thomas Mallalieu to become the longtime Joint General Secretary of the hatting unions. Fred was also a longtime Denton Councillor, who was Chairman of Denton Council on four occasions, 1928-29, 1929-30, 1930-31 and 1955-56.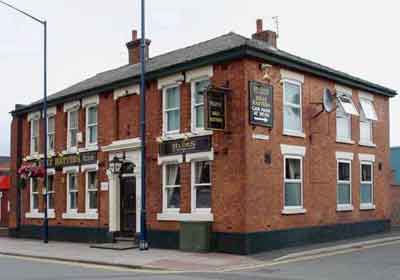 Jolly Hatters, Stockport Road, 24 July 2005.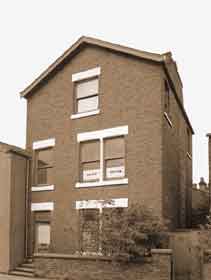 Union Offices, Walker Street,
c
.1975.