Haughton Green Methodist Church
The half-acre site, which incorporates a graveyard, was purchased for £130 and the chapel cost £700 to build. The chapel opened in 1811 and the first minister was the Rev. William Jones. Slater's Trade Directory for 1903 states that the chapel could seat around 450 persons but in 1812 the return of members, which at the time embraced neighbouring towns, was 174 persons. Slater's Trade Directory for 1909 states that it could seat around 300 persons.
In early 2011 the church closed and services are now held in the former Sunday School on the opposite side of the road.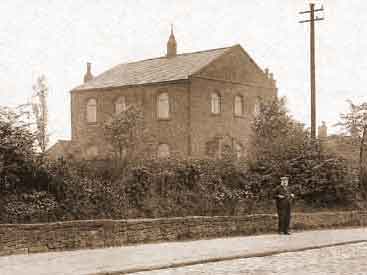 Alexander Young was born in Glamis Forfarshire, Scotland, in 1809 and by 1837 he was living in Chorlton upon Medlock, Manchester, where he was employed as an organ builder, and by the time of the 1871 census he had become a foreman. The 1871 census also records that his son, William Alexander, was employed as an organ tuner but in 1872 he founded the family business of Alexander Young & Sons Ltd, which was established in Vine Street, off Stretford Road, Hulme. His father joined him in 1873 and in 1875 the business moved to 27 and 29 Eldon Street, Chorlton. The couple's eldest son, David Farquharson, was also associated with the family business.
Alexander Young married Emma Jackson of Burnage, at St John's Church in 1837. This church is likely to be St John's Church, Byrom Street, Manchester, because the nearer church of the same name in Longsight had not then been built. Known children are David Farquharson (b.1840), Emma Jackson (b.1847), Eliza (b.1852), William Alexander (b.1850), Lucy (b.1854) and Sophia (b.1856). David Farquharson married Christina (or Christiana) Gulland in 1862 and William Alexander married Agnes Jane McKay in 1874.
In the 1860s, Alexander Young was living in Welbeck Street, Chorlton, and by 1871 he had moved to Ludlow Street. In the 1880s, William Alexander Young was living in St John Street, Longsight, and by the 1890s he was living in Spring Gardens, Didsbury. In the same decade, David Farquharson was living in Cecil Street, Greenheys. Alexander Young died in 1880, aged 71 years, David Farquharson died in 1911, aged 70 years, and William Alexander died in 1917, aged 67 years.
Correspondence with Jardine & Co Ltd (another firm of Manchester organ builders) relating to organ tuning following the liquidation of Alexander Young & Sons Ltd is deposited with Cheshire Archives and Local Studies. Reference P209/3464/3/22-25, dated 1926.
In 1915 a porch was built in front of the entrance incorporating seven foundation stones which show that they were laid on the 28 August 1915.
<!>