Sir George Gilbert Scott R.A.
This hammer-dressed stone church, with a slate roof, is in the Early Gothic style and it consists of a chancel, nave of five bays, aisles, north porch and a western tower with a spire containing a clock and one bell. There are 10 stained windows, including the east window, which was placed in 1866 in memory of Edward, aged 5 years, son of John Bradbury, a proprietor of Broomstair Colliery. A new north vestry and organ chamber were added in 1889.
The church was listed Grade II on the 27 November 1967, List Entry No. 1067969.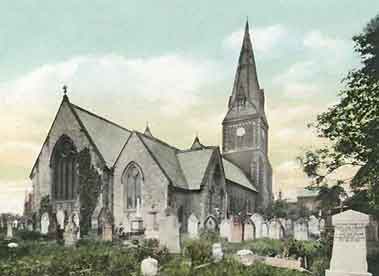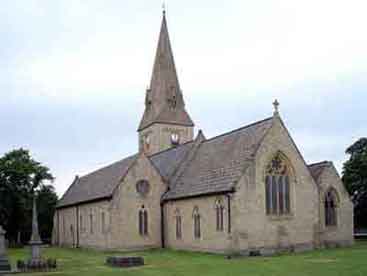 Left: Christ Church, early 20th century.
Right: Christ Church, 24 July 2005.
The ecclesiastical parish of Christ Church, Denton, was formed on the 17 March 1846 but the church was not erected until 1853. The Revd Richard Greswell, who was a benefactor of his father's (Revd William Parr Greswell) parish of Denton, was instrumental in the building of Christ Church and its parsonage schools and for the provision of an endowment. The schools were opened prior to the consecration of the church, which was on the 13 October 1853. The consecration was by the first Bishop of Manchester, Dr James Prince Lee, and the sermon was preached by Dr Samuel Wilberforce, Bishop of Oxford. Among the dignitaries present were the 2nd Earl of Wilton, Thomas Egerton, and the Rt. Hon. William Ewart Gladstone MP FRS FSS, Chancellor of the Exchequer (later Prime Minister). Richard Greswell was a contemporary of William Ewart Gladstone at Oxford University and they were personal friends. The first rector in 1846 was the Revd Thomas Newham Farthing M.A. He graduated at St Catharine's College, Cambridge and he was a man of great energy and noted as a preacher and speaker (Middleton, p. 77). On leaving Christ Church in 1872 he held the living at St George's Church, Mossley, until his death at Lytham, Lancashire, on the 31 May 1885, aged 65 years.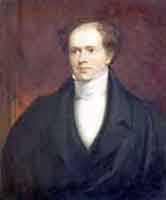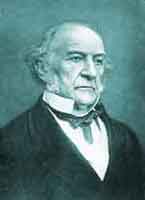 From left to right: Revd Richard Greswell B.D.; Dr James Prince Lee B.A. M.A. D.Div.;
Dr Samuel Wilberforce F.R.S. D.Div.; & Rt. Hon. William Ewart Gladstone M.P. F.R.S. F.S.S.
<!>
Revd Thomas Newham Farthing M.A.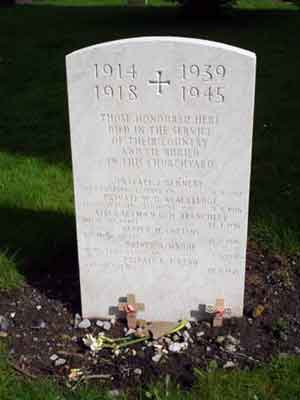 1914-1918   1939-1945 THOSE HONOURED HERE DIED IN THE SERVICE OF THEIR COUNTRY AND LIE BURIED IN THIS CHURCHYARD PRIVATE J. BENNETT* 76TH TRAINING RESERVE BN. 18. 9. 1917 PRIVATE W. G. BLACKLEDGE† GLOUCESTERSHIRE REGIMENT 3. 5. 1916 AIRCRAFTMAN G. H. BRENCHLEY ROYAL AIR FORCE 22. 4. 1945 SAPPER H. COLLINS* ROYAL ENGINEERS 31. 12. 1946 DRIVER J. MAUDE ROYAL FIELD ARTILLERY 1. 1. 1918 PRIVATE C. J. READ* LABOUR CORPS 30. 3. 1921
*These casualties are not listed on the Rolls of Honour inside the church.
†The name of Private William Gregson BLACKLEDGE also appears on the War Memorial of Manchester University. His father, the Revd Robert Thomas BLACKLEDGE M.A., was the Rector of Christ Church between 1896 and 1927. On Saturday, 23 July 1921 the Revd Captain Robert Dallas Blackledge M.M., brother of the late Private William Gregson Blackledge, dedicated the War Memorial in Victoria Park, Denton. At this time he was the Curate at Christ Church.
| | | | |
| --- | --- | --- | --- |
| 1914-18 James BERESFORD William Gregson BLACKLEDGE William Edward BOARDMAN Clarence BOOTH James Arnold BOSTOCK Harry CATLOW Joshua CLARKE Herbert CULLEY Charles DAVENPORT Tom Bellringer DAWSON William Ewart DICKIN Joseph Kelsall FYFE Albert Edward GALLIMORE John GRAHAM Percy GRAHAM John Edward HAWLEY Tom HIRST Louis JACKSON | Harry KILLELAY Charles Edward MARLOR Herbert MASON James MAUDE Percy MOORES (aka MOORE) James William MOULT Samuel Yates MYATT Herbert OLDHAM Henry OWEN Samuel PARKES John RADFORD Oswald Edward RIVERS Arthur William ROBERTS Charles SAMPLE Frank SLEIGH Percy Lawrence WATSON John WOOLLAM | 1939-1945 Harry ALLOTT Alice BANCROFT (civilian) George Henry BRENCHLEY George Edward CHAPPELL John James GALLIMORE Samuel GEE Fred GREENHOUGH Edward Joseph HARTLEY John Leicester HARVEY Ernest HIGGINBOTTOM William HOCKEY Wilfred HOOPER Richard Gould HOWE Harry HUGHES Herbert LEE William LITCHFIELD William MARSLAND Wilfred PEARCE | Frederick RALPH Ernest SCHOFIELD Joseph TURLEY Andrew UNSWORTH Douglas Kenneth WILLIAMS Colin Howard WILSON D.F.C. |

<!>