The Denton branch of the Holland family was founded by Sir Thurston de Holland II who was the great grandson of Sir Thurston de Holland I of Upholland, Lancashire. He was the eldest son of William de Holland of Sharples, Lancashire, and Margaret de Shoresworth, who was the heiress of land in Denton. His parents were unmarried and he was born in Sharples in 1290 and he died in Denton in 1365. Hence, Sir Thurston de Holland II was born during the reign of Edward I (1272-1307) and died during the reign of Edward III (1327-77).
He married Mary, the daughter of John Collyer, in 1324 and the couple had five sons and at least one daughter called Mary (1329- ). Their eldest son was Richard de Holland (1325-1402) and he continued the Denton branch of the Holland family. Their second son was William Holland (1327- ) and he founded the Clifton, Lancashire, branch of the Holland family.
Margaret de Shoresworth was born in c.1274 in Booths, Haslingden, Lancashire, and she died in 1363 in Pilsworth, near Bury, Lancashire. Her father was Robert de Shoresworth and her mother was Margaret de Denton. Her paternal grandfather was Robert de Shoresworth and her maternal grandfather was Alexander de Denton. She was an only child.
A grant of land at Denton was made in 1325 to 'Thurston, son of Margaret de Shoresworth,' and the deed was witnessed by Thurston's father, William de Holland. In 1330, by a deed dated at Denton on the Feast of St Hilary (13 Jan), Alexander de Shoresworth, Margaret's uncle, granted to 'Margaret, daughter of Robert de Shoresworth,' all his messuages, land and tenements in the Hamlet of Denton. A few days later, Margaret de Shoresworth granted the same Denton estate to Thurston de Holland, her son. Five years later, by another deed, Thurston de Holland, referring to himself as the 'son of William de Holland' granted to 'Mary, my mother,' a life interest in the Denton estate.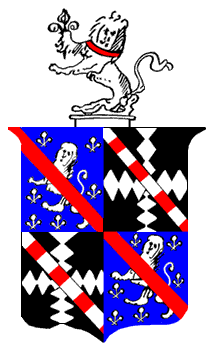 Arms of Holland of Denton (reconstruction).
Upper left and lower right quarters: A rampant lion between six posies representing the Holland family.
Upper right and lower left quarters: A cross formed of lozenges representing the Kenyon family.
These arms were granted following the marriage of Richard de Holland and Aimeria, daughter of Adam de Kenyon, which united the two families. Their eldest son, Thurston Holland, was born in c.1360, which possibly dates these arms to the 1350s.
It was recorded that the total area of Denton was 1,706 acres (2.666 square miles). In 1810 the Denton estate, formerly owned by the de Hollands, contained 549 acres and in 1846 it contained 603 acres. 549 acres (0.858 square mile), that is, 32.18% of the total area. 603 acres (0.942 square mile), that is, 35.35% of the total area.
The original family seat of the Holland family was in the township of Upholland which lies three miles to the west of Wigan and is part of the Wigan parish. The township of Sharples is in the Bolton-le-Moors parish of Bolton. Shoresworth was a detached part of Pendleton, Lancashire, and in 1853 it became part of Salford.
Kenyon is a township to the east of Newton-le-Willows.
In the mid-1850s the historian, Revd John Booker BA MA FSA, recorded that the hall was still in good condition and a painting of it in 1880 by the renowned watercolour artist, Evacustes A Phipson, (Edward Arthur Phipson, b.1854) shows that its condition was still good at this time. Unfortunately, during the last two decades of the 19th century its condition deteriorated. Around this period it ceased being used as a residence to become a farmhouse and the surrounding land became a farm estate. Tenant farmers neglected the hall to such an extent that it fell into a poor state of repair. In 1894, Seymour John Grey Egerton (1839-1898), 4th Earl of Wilton, built a new farmhouse and concurrently the west wing of the hall, with its two gables, was demolished to leave the great hall and east wing, which was leased as a residence.
It continued in this state until the 19 Jan 1930 when the great hall was burned down, to leave only the east wing standing. In 1979 the remains of the east wing were demolished down to the level of its sandstone footings and the surviving timber framing was removed and re-erected at Hough Ln, Wilmslow, Cheshire. There is now no trace of the hall's former existence.
Coal scuttle cabinet associated with Denton Hall.
This cabinet is known to have been extant by 1850 when it was given to the Woolfenden family of hat manufacturers who lived near Denton Hall. Irrespective of the 1618 date carved in the cabinet, it most likely dates from the late Georgian or early Victorian era. Credit: F Brown.