Broomstair House was situated off the south side of Hyde Road, Haughton. Besides being used as the office for Broomstair Colliery it was also used as a dwelling.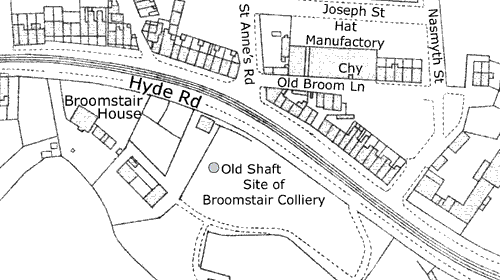 Street Directories from 1881 until 1889 show that Broomstair House was used as an office by the Hyde & Haughton Colliery Company. In c.1890 Broomstair Colliery was sold to the Dukinfield (New) Coal and Cannel Company Ltd and Street Directories from 1890 until 1902 show that this company was using Broomstair House. Although the colliery closed in 1898 there was still some short-term use for the premises by the colliery company but from 1903 onwards there is no mention in directories of the Dukinfield (New) Coal and Cannel Company having a presence at Broomstair House. In the course of time the site was redeveloped for other purposes and it is now occupied by a supermarket.
By 1881 the manager of Broomstair Colliery was Joseph Goodwin and he was resident at Broomstair House. The Street Directory shows that he was resident there up to 1896. He was replaced as the manager by Richard Clay but he was resident elsewhere. By 1891 Frederick Booth was also resident at Broomstair House and he was the engineer or engine tenter at the colliery. A tenter was someone in charge of machinery and in this case he would have been in charge of the colliery winding engine. He was still there in 1901 but by this time he had retired and was listed as a householder.
Other residents of Broomstair House who were unconnected with coal mining were Francis Cree, a sewing machine mechanic, and Edwin Jones, a boiler composition manufacturer, who was a proprietor of Jones & Horsfield.