Audenshaw War Memorial
Cemetery Rd, Audenshaw
Introduction
This memorial is sited just inside the main entrance to Audenshaw Cemetery and it records the names of 158 citizens who died during the Great War (1914-1918). The names of another 61 citizens who died during the Second World War (1939-1945) are also commemorated.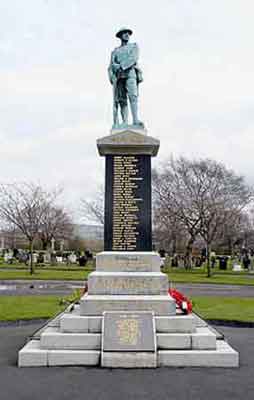 Audenshaw War Memorial,
13 Apr 2008.
Description
The memorial comprises of a bronze statue of a soldier, wearing battle dress, who is holding a rifle with both hands. The statue stands on the granite capital of a square-section column of black marble mounted on top of a square stepped pedestal of granite. The names of the servicemen are inscribed on each face of the column and supplementary names are inscribed on the pedestal at the back. Further inscriptions are placed on all four sides, both on the capital and on the pedestal. The statue is 6 feet high and the overall height of the pedestal and column is 15 feet.
Inclined black marble tablets are placed on all four sides and these record the names of servicemen who died during the Second World War.
Audenshaw War Memorial was listed Grade II on the 14 Jul 1987, List Entry No. 1356483.
History
The commission for the memorial sculpture was awarded to the London sculptor, Percy George Bentham RBS of The Studio, Gunter Grove, off Fulham Rd, Chelsea, London, and it was cast at the Albion Art Foundry (E J Parlanti) of Parsons Green, Fulham, London. The memorial was erected by the Dukinfield firm of monumental masons, W M Hewitt & Sons (formerly Hewitt Brothers) of Crescent Rd, Dukinfield, at a cost of £1,270.
The unveiling ceremony and service of dedication, on the 27 Nov 1920, commenced with a procession of some 7,000 people from Coronation Square to the cemetery, that is, from Audenshaw Rd by way of Stamford Rd and Shepley Rd to Cemetery Rd. The unveiling was by Councillor W Richardson in the presence of the clergy and Austin Hopkinson (Member of Parliament for the Mossley constituency, of which Audenshaw was then part) as well an estimated gathering of 10,000 people. The memorial was dedicated by the Revd W H Jefferies (Congregational Church). Prayers were led by the Revd A C Sinclair (Vicar of Audenshaw), the lesson was read by the Revd G M Beard (United Methodist Church) and the Revd W E Wallis (Wesleyan Church) was also in attendance.
Inscriptions:
Front face
In Memoriam

In proud and grateful memory of those who
gave their lives for king and country.

THE GREAT WAR 1914-1919.

Erected by the inhabitants of Audenshaw. 1920
Right face
In Memoriam

Their bright spirits still tenant the hearts
of those who loved them.

VICTORY.
Back face
In Memoriam

They passed out of sight of man by the
path of duty and self sacrifice.

PEACE.
Left face
In Memoriam

Let those who come after see to it that their
names be not forgotten.

LIBERTY.
Roll of Honour, Great War
| | | | | | | |
| --- | --- | --- | --- | --- | --- | --- |
| Henry ALLCOCK Kenneth W ALLMAN Frank ARDEN Harry ASHWORTH Gilbert AXON William Henry BATKIN Alfred BAXTER John BEAN William George BEAUCHAMP John BEILBY Joseph BENSON Arnold BEVERLEY James BIGGS George BIGGS Mark BINKS Joseph BISHOP Wilfred BLAKEBROUGH William Henry BOGIE John BOWMAN Harold BRADBURN Wilfred BRADBURN John BRADY Victor BRAMALL Charles BROMLEY Edwin BROWN Frederick BULLOCK John BURGESS Richard BURGESS Arnold CASTLE Ernest CHADDERTON Thomas CHAPMAN Harry Jackson CHORLTON Arthur CLARKSON John CLAYTON William Charles COOPER Benjamin CORK |   | Thomas CURRAN John DAWSON William DODD Wilfred DUNKERLEY Harold EDWARDS Herbert S. ELLIS Richard FISHER Arthur FISHER Walter FISHER George FRATER Joseph GREATOREX Arthur GREEN Albert Edward GREENHALGH Frank GREENHALGH John R GREENHALGH GUNNELL David (aka GUNNING) Samuel HADFIELD Arthur HAGERTY Joseph HALL Alfred HARRISON John HARRISON Joseph HARRISON Norman HARRISON Albert William HARTLEY George Thomas HASLOP Albert HAYES Herbert HIBBERT Thomas B HICKINBOTTOM George HIGGINBOTTOM Harold HILTON James T HORTON Charles Henry HULSE George HUXLEY Herbert HUXLEY George JARRATT Henry JOHNSON |   | George W JONES Harold JONES Joseph JONES William H JONES Fred KELLEY Harry KINDER James KIRBY Frederick Vernon KNOTT Leonard Sandham KNOTT Anthony LANGAN Joseph H LAYNTON Joseph B LESLIE Frank LODGE Edward LORD Percy LOWE George MABEN Egbert MACKERETH Frank McNEISH Harry McNEISH James MAIR George MARKHAM Alfred MARSHALL MM Walter MEADEN Harry MEE Arthur MELIA Alfred METCALF James S. MILLAR James MILLS Percy MOORES Harry NAISH Edgar NEWTON George ORTON Sidney T ORTON Norman PARTINGTON Edward Garfield PAWLEY Joseph PEARSON |   | Samuel PICKERING Frederick Arthur PICKLES MC William RAWSON Albert RICHARDSON Hedley RICHARDSON David ROBERTS Fred ROGERSON Harry ROGERSON John ROWLAND Thomas ROYDS Andrew SCHOFIELD Ralph SCHOFIELD Benjamin SHATWELL John SHAW Ernest SHUFFLEBOTTOM Fred SMITH Frederick SPINKS Harry STAFFORD Ernest STAPLETON Fred SUTCLIFFE Reginald Thomas H SUTHERLAND Walter TAYLOR Fred TORKINGTON Harry WARD Walter WHITEHEAD Alfred WILDE John WILDE Charles WILDGOOSE William Vincent WILLIAMS James Albert WILLIAMSON Walter G WILSHAW John WISE John Thomas WOODS Frederick Graham WORSLEY William Hubert WRIGHT James FLINDLE |
| | | | | |
| --- | --- | --- | --- | --- |
| Frank BALLARD Joe BRADLEY Harry BURBIDGE John CALDERWOOD Arnold CHADDERTON |   | George H DUTTON Harry GRIMSHAW Frank HAMER Fred JORDAN |   | Maurice LIVINGSTON Frederick John LONGSDALE William SMITH William TAYLOR James HAMPSON |
Roll of Honour, Second World War
| | | | | | | |
| --- | --- | --- | --- | --- | --- | --- |
| ALLEN George Leslie ARDERN William Howard BARBER Eric Spencer BARLOW Edward BRIDGE Raymond BRIDGE Sydney BUCKLEY Gordon Henry CALVERLEY George CHADWICK James William COOPER Herbert W COOPER Jack DAVIES Harold DAVY Edgar DRIVER Herbert Firth ELLY Harry |   | FISH Thomas FLETCHER Brian HARWOOD Norman HARLAND Clarence William HEPTONSTALL George Russell HODKIN William HUNT James JACKSON Samuel Peake JARVIS Joseph KENNEDY George James KEWLEY George Douglas LANGRIDGE Frederick William MELLOR John Othniel MERCER Alfred NADEN Ernest |   | MITCHELL Joseph MUTCH Samuel NICHOLLS Frank NORRIS Harold OGDEN Fred OWENS Hugh Thomas PAYNE Cyril PLATT Arnold POWNALL Frank PRICE William Oswald PRINGLE John Henry RAMSBOTTOM Norman SHAW James SLATER Rupert William SMITH Arthur DINGWALL Harold |   | SMELLIE Robert SWINDELL John Edward SWINDELL Major William Harry TAYLOR Eric TAYLOR Fred TAYLOR James TAYLOR William TRAVIS Joseph WEBB Alfred Thomas WHITEOAK Arthur Wilson WILLIS Geoffrey Charles WREN George WOOLLEY Arthur YOUNG Harold ROGERS Eric |
Roll of Honour, Supplementary, Second World War
| | | |
| --- | --- | --- |
| CLIFFORD Wilfred LYNCH Harry Ponsonby |   | O'REILLY James SHAW Joshua |
Rolls of Honour for Audenshaw Cemetery
Thirty four casualties have been identified who are buried in the cemetery, twenty from the Great War and fourteen from the Second World War.
| | | |
| --- | --- | --- |
| 1914-1918 ALLMAN Kenneth W AXON Gilbert BEAN John FLINDLE James GUNNELL David (aka GUNNING) HAMPSON James HARRISON Joseph HASLOP George Thomas HIBBERT Herbert HICKINBOTTOM Thomas B HIGGINBOTHAM Matthew HOBKIRK Charles MASSEY Matthew ROBERTS David ROWLAND John ROYDS Thomas SHUFFLEBOTTOM Ernest STAFFORD John William SUTHERLAND Reginald Thomas |   | 1939-1945 BRADSHAW George BRIDGE Raymond CALVERLEY George COOPER Jack GREEN Leslie HARRISON Sidney HEPTONSTALL George Russell PRESCOTT John PRESTWICH William John RILEY Wilfred SCHOLES Ronald St PAUL Arthur WILDE John Harrison WOOLLEY Arthur |
<!>
---
Roll of Honour, Great War, Churchyard of St Stephen's Church
BLAGDEN James
 
LIDDELL John R H
<!>

Roll of Honour, Great War, Guide Lane Wesleyan Methodist Chapel
Marble tablet now in the care of Portland Basin Museum, Ashton-u-Lyne.
| | |
| --- | --- |
| ARDEN Frank BRINDLEY Joseph W† GREENHALGH Frank HALLIWELL Ernest W | MABEN George RICHARDSON Hedley SUTHERLAND Reginald T H TWO UNIDENTIFIED |
†Joseph Wilfrid BRINDLEY was born at Audenshaw in 1894 and he died at Chorlton-on-Medlock, Manchester, in 1921, aged 26 years. His death is unrecorded by the Commonwealth War Graves Commission.
Roll of Honour, Second World War, Churchyard of St Stephen's Church
Roll of Honour, Second World War, Memorial in St Hilda's Church
| | |
| --- | --- |
| CRABTREE W ETCHELLS F FAWCETT A GILMOUR R HOWARD K | HUNT L NUTTALL W RAIN R WOOLLEY A |
<!>