The township of Audenshaw lies about 5 miles to the east of Manchester and its name derives from an earlier name of Aldwinshagh from 'Aldwin', a Saxon name, and Old English suffix 'shagh' meaning 'coppice' (i.e. Aldwin's coppice). Other spellings dating to c.1200 are Aldenesawe and Aldwynshawe.
Audenshaw was one of the four parishes of Ashton-under-Lyne, Salford Hundred, in the County Palatine of Lancashire, and in the 1840s it was comprised of Audenshaw Village, Hooley Hill, Littlemoss, North Street, Walkmill, Waterhouses and Woodhouses. Its centre was Audenshaw Village situated at the junction of Taylor Lane with Audenshaw Road. Until Audenshaw Reservoirs were constructed Taylor Lane linked Audenshaw Village and Denton.
In 1875 Manchester Corporation acquired Parliamentary powers to construct three reservoirs in Audenshaw that necessitated the flooding of some 250 acres of land between Audenshaw Road and the two older Denton Reservoirs. Intended Reservoirs 4 & 5 were never built. Reference: The London Gazette, Issue 24153, p5539, dated 20 Nov 1874. As a result, Audenshaw Village, including Red Hall and Red Hall Methodist Chapel, was demolished in 1876 to make way for the work. Also destroyed was a section of the Anglo-Saxon Nico Ditch. The reservoirs were constructed between 1877 and 1882 and the work was supervised by the civil engineer, John Frederick Bateman (30 May 1810-10 Jun 1889).
Audenshaw has eight listed monuments recorded on the National Heritage List for England and they are all designated Grade II.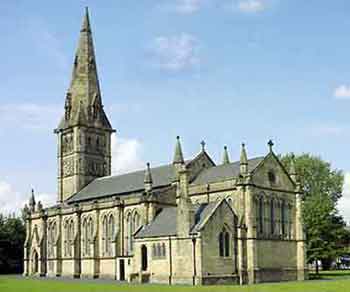 St Stephen's Church
List Entry No. 1309267,
Date first listed: 31 May 1966.
Built in 1845/46 to a design by the Manchester architect Edwin Hugh Shellard (8 Feb 1815-1 Feb 1885) for the Church Commissioners, with a rebuild of the chancel in 1899-1900. Built in the Gothic Revival style of hammer-dressed stone and slate roof.
<!>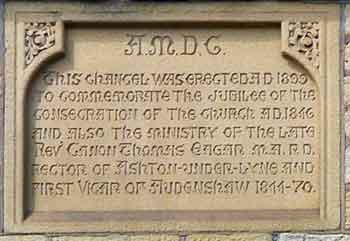 Chancel Foundation Stone
A.M.D.C. (To the Greater Glory of God)

This chancel was erected AD 1899 to commemorate the jubilee of the consecration of the church AD.1846 and also the ministry of the late Rev Canon Thomas Eagar M.A. R.D. rector of Ashton-under-Lyne and first vicar of Audenshaw 1844-70.
<!>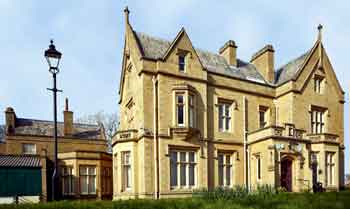 Ryecroft Hall
List Entry No. 1067987,
Date first listed: 31 May 1966.
Built in c.1860, the hall is a two storey range of 7 bays by 4 bays and is of Ashlar stone construction with a slate roof.
From 1885 until 1908 the hall was the residence of Abel Buckley J.P. (1835-1908). He was a cotton manufacturer, Mayor of Ashton-under-Lyne (1847-48/49) and briefly the M.P. for Prestwich (1885/6). He owned Ryecroft Mills (cotton spinning) on Ryecroft Street/Smith Street, Ashton-under-Lyne. By 1913 it was the residence of Austin Hopkinson (1879-1962), an industrialist and inventor, who was the Independent M.P. for Mossley (1918/29 & 1931/45). He gifted the hall and grounds to Audenshaw in 1922.
During the Great War the hall was a Red Cross Auxiliary HospitalAuxiliary Hospitals were managed by a matron, nurses and nursing assistants of the British Red Cross and Order of St John of Jerusalem with a commandant in charge supported by local surgeons, doctors and cooks, etc.
The commandant at Ryecroft Hall was M H Wainwright and four known nurses are: Alice Platt, Alice Turner and Margaret Annie Woolfenden, all of Denton, and Constance Scholes of Ashton-under-Lyne. with over 100 beds.
<!>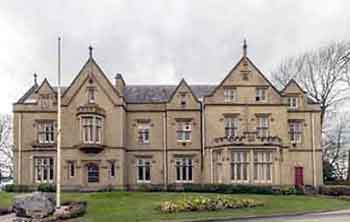 <!>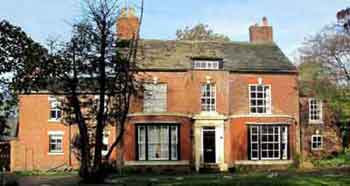 Audenshaw Lodge
List Entry No. 1067965,
Date first listed: 22 Aug 1979.
Built in 1774 of brick construction, the building has Flemish and header bonds with a graduated stone slate roof. It is two storeys high with later additions to the rear and left.
It was once the residence of George Henry Ashworth, a cotton manufacturer. He was resident there by 1891 and still in residence in 1911. He was born at Newchurch, Rossendale, Lancashire, in 1851 and he married Mary Alice Crowther at Huddersfield in 1875.
<!>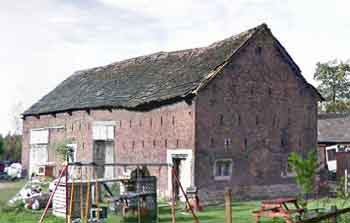 Lodge Farm Barn
List Entry No. 1069766,
Date first listed: 22 Aug 1979.
Brick built in the late 17th century with 19th century alterations. This barn has English garden wall bond with a graduated stone slate roof. There are opposed cart and winnowing doors with animal accommodation, possibly stabling, at the east end.
<!>
Audenshaw War Memorial
List Entry No. 1356483,
Date first listed: 14 Jul 1987.
Constructed in c.1920, this memorial consists of a stone base surmounted by a bronze statue of a soldier sculpted by Percy George Bentham and cast at the Albion Art Foundry. The battle-clad figure, clasping a rifle, stands on a tall square shaft with plain pediments and rolls of honour on the each face. The Albion Art Foundry (Alexander Parlanti) was based at Beaumont Road, West Kensington, London.
<!>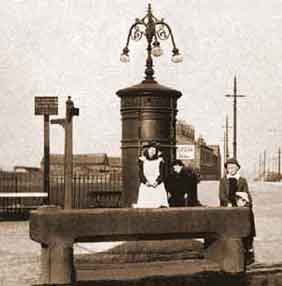 Pillar Transformer & Street Light
List Entry No. 1356484,
Date first listed: 14 Jul 1987.
Dating from c.1900 this transformer was used to supply power to the tramway system. It was made by the British Electric Transformer Co of Hayes, Middlesex.
Horse & Cattle Trough
List Entry No. 1381420,
Date first listed: 16 Aug 2000.
The trough dates from 1879 and it was installed on behalf of a Miss M Ashworth. The inscription on the front of the polished Cornish granite trough reads, 'THE RIGHTEOUS MAN REGARDETH THE LIFE OF HIS BEAST ' - Proverbs 12:10 – King James Bible.
Update: Both monuments were badly damaged on the 25 May 2020 and their remains have been removed from site.
<!>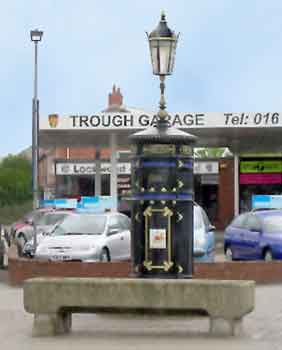 Pillar Transformer & Trough
The two monuments prior to their damage.
<!>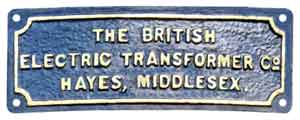 Pillar Transformer Nameplate
The British Electric Transformer Co was founded in 1903 and the Registered Design No. of this transformer is 413958 which dates it to 1904/05.
<!>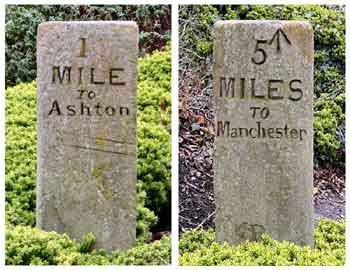 Milestone
List Entry No. 1268427,
Date first listed: 9 Nov 2000.

This 19th century milestone may date from 1824 when the present A635 road became a turnpike. It consists of a rectangular sandstone post, about 5-foot tall, with two inscribed faces. One side reads, '1 MILE To Ashton' and the other reads, '5 MILES To Manchester'.

<!>

<!>