Red Hall Methodist Chapel
Audenshaw Road, Audenshaw, Tameside
The earliest chapel was located in Audenshaw Village on the east side of Taylor Lane. It opened in 1782 and was demolished in 1876 to facilitate the construction of Audenshaw Reservoirs. It was on the site for Audenshaw Reservoirs, No. 3. A replacement chapel was built on the north side of Audenshaw Road close to the site of the earliest chapel. This was provided by Manchester Corporation Waterworks. A datestone for 1876 was placed over the entrance to the replacement chapel.
In 2004 Red Hall Methodist Chapel amalgamated with Guide Lane Wesleyan Methodist Chapel and Audenshaw United Reformed Church (formerly Bridge Street United Reformed Church) to form Trinity Methodist Church accommodated in the replacement chapel. In 2007 the replacement chapel was demolished and a third building was erected on the same site. This was opened on the 27 Sep 2008 by the Revd Dr Martyn Atkins and the Revd Richard Church.
When the replacement chapel was demolished the datestone was saved and remounted in the wall on the other side off the road almost opposite the new Trinity Methodist Church. It was unveiled by the Mayor of Tameside, Councillor John Sullivan, on Friday, 11 December 2009 at 2:00pm.
<!>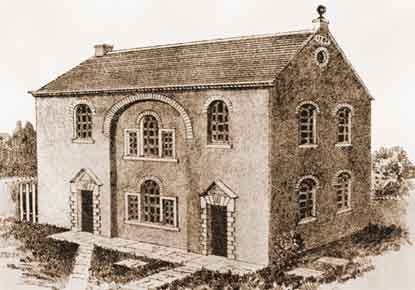 <!>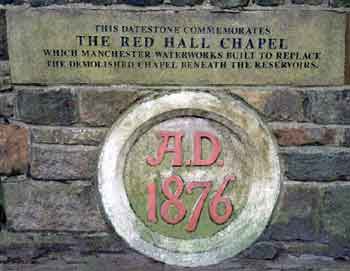 <!>