Adam Ashworth Ltd
Wool Felt Hat Manufacturer
of Hay Street, Hooley Hill, Audenshaw
This company was founded by Adam Ashworth Jr (26 Apr 1850-2 Mar 1939) and the hat works was situated on the north side Hay Street, off Guide Lane, Hooley Hill, Audenshaw. The origins of the company can be traced back to Adam Ashworth's father, Adam Ashworth Sr, who was the proprietor of a hat works at Bury by 1851. Adam Ashworth Jr was joined in the business by his son, Gilbert Ashworth, who was the company chairman when it was voluntarily wound up in 1966. The company based at Bury was styled Adam Ashworth & Sons (Bury) Ltd and this was voluntarily wound up in 1952. Adam Ashworth & Sons (Bury) Ltd was situated at Fern Hill Mills, Hornby Street, Bury.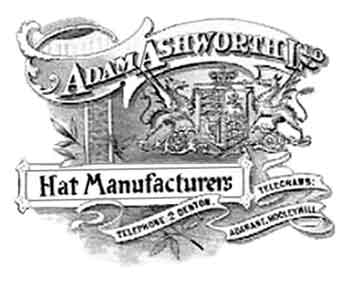 Adam Ashworth Jr was born at Bury, Lancashire, to Adam Ashworth Sr and Sarah Taylor who were married at St Mary's Church, Prestwich on the 16 Apr 1837. In 1861 he was resident with his parents and siblings on Silver Street, Bury, still at school. By 1881 Adam Ashworth Jr had moved with his family to Shepley Road, Audenshaw, where he was in business as a hat manufacturer employing 26 women, nine boys and two girls.
Gilbert Ashworth was born at Audenshaw on the 1 Mar 1881 to Adam Ashworth Jr and Mary Hacking Lord who were married at Bury in 1873. He married Mabel Pratt at Lancaster in 1910 and in 1911 they were resident at Mellor, Derbyshire. By 1939 they had moved to Wilmslow, where Gilbert died in 1966, aged 85 years. This was in the same year that Adam Ashworth Ltd was liquidated.
Hay Street and the hat works at Hooley Hill are no longer extant and the only reminder of their former existence is Ashworth Avenue off the north side of Water Street.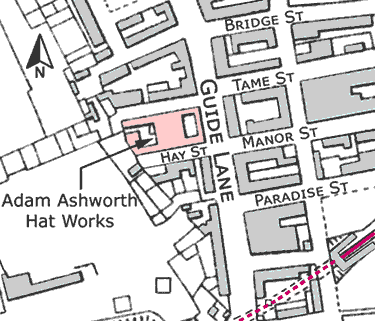 <!>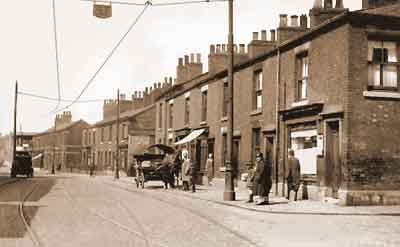 <!>